If you haven't been following the news recently, work from home has become the norm across many offices and corporations worldwide as the private sector attempts to help do its part in preventing wider transmission of COVID-19. Either at governments' urgings or as a result of their own analysis of the situation more and more companies are closing their front doors and telling their employees to stay home. Social distancing is the best way to "flatten the curve" when it comes to stemming the spread of the coronavirus. Take a deeper dive into this Livescience article if you want to know a bit more about how the infection curve plays out in a variety of situations.
You might ask, how are we at inFeedo coping with this unprecedented disturbance in our normal workflow? Separation anxiety for one, we all miss the office! However, we know what we're doing is important, and even though the demographics of our office skew young we recognize that it's our responsibility to protect the health and wellbeing of people from at risk groups. So even though we're not together every day how are we keeping things moving forward? It's simple, by utilizing the best softwares as a service available to minimize the disruption of our workflow. We know a little something about the SaaS industry! We're fortunate that our HRBPs and company leadership were able to build out a toolkit of products that has made this transition as seamless as possible.
Let's take a look at some of the best SaaS available for ensuring your employees stay productive and engaged during this disruption.
1. Slack: Say Goodbye to Emails!
Slack is a revolutionary workplace messaging app that seamlessly connects a workforce. At inFeedo, we check in every morning on Slack, displaying to our colleagues that we're ready to work! At the end of the day, we all check out, although you sometimes see little green "checked in" emojis into the wee hours of the night (looking at you, Garvit, Sam, Esmita and the rest of our Customer Success team)!
So how can Slack change your workplace? The easy creation of specialized groups, large file hosting capabilities, statuses, and a plethora of integrations will keep your work neatly segmented and streamlined. Slack works on a freemium model, meaning you and your team can try it for free today! Even if your company isn't ready to adopt en masse, consider utilizing it for your team. If it catches on they offer plans between 3 and 5 USD per month per user. Not too hefty a price to pay for productivity!
2. Zoom: Smile!
Zoom is the best of the best when it comes to video conferencing softwares, offering a variety of features that competitors just can't keep up with. The firm has seen a huge jump in its stock price due to its widespread adoption during this pandemic, spiking from 69 USD a share in early December to 125 USD a share now. We're also happy to use their product as their CEO, Eric Yuan, is a prior Glassdoor CEO of the Year due to his staggering 99% approval rating among the employee base.
The success of Zoom is reiterating what we already know, that face to face communication is the best way to keep people engaged and accountable while working remotely. Plus, it also helps with isolation related depression as we're forced to socially distance for the greater good.
Our inFeedo Slack chats are replete with screenshots of our team video conferences, making us feel a little less alone. Zoom also operates on a freemium model, allowing you to soft integrate it into your workplace before making any large financial decision.
3. Google Suite: Everything in One Place
As a content creator I could not function without Google Suite, full stop. It's the most easy to use, well designed, and functional collaboration software in the industry. It makes collaboratively working on documents a piece of cake, and I personally enjoy obsessively arranging my folders to efficiently group content. It removes the hassle of emailing documents back and forth, inevitably resulting in miscommunication and a variety of versions that leave everyone confused.
G Suite offers a free trial, but otherwise transitions its customers to the paid version quickly. This is one software that your company probably uses and its value is well established. Of all the SaaS we use, this is the most indispensable one.
#4 ProofHub: Teams, Customers, and Tasks All In One Place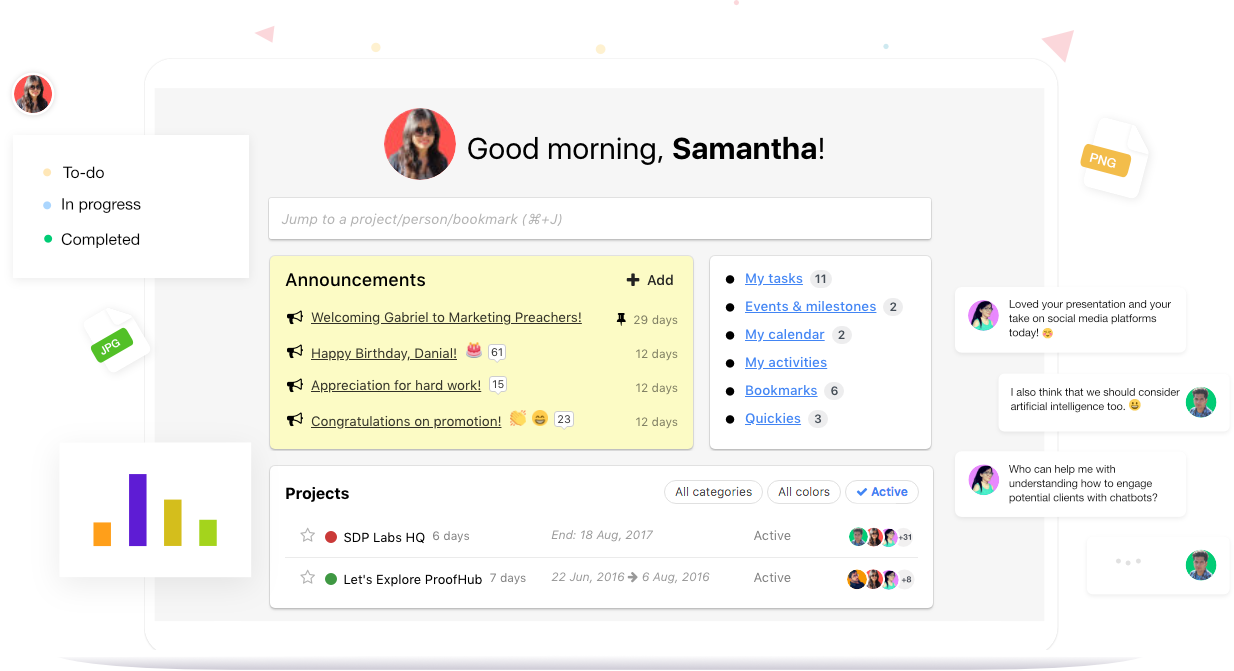 ProofHub is an all-in-one project management and team collaboration software that helps teams become more productive. It replaces the many apps you need to plan your tasks, collaborate with team members, and keep everything organized with a single easy-to-use software. You can add tasks with deadlines and assign them to team members. You can create custom workflows for agile task management. Share files, review, and annotate design files using markup tools, proof, and approve them - all using ProofHub. It also offers a dedicated space for real-time collaboration. You can integrate your favorite apps like Google Drive, OneDrive, Dropbox, and Box in ProofHub to access all your data from one central place.
ProofHub, unlike many other popular tools, does not have a per user pricing plan.
5. Trello: Boards, Boards, Boards!
Trello is a work tracking system produced by Atlassian that allows you to neatly group responsibilities and assignments on a series of boards editable by the whole team. In the software you can assign tasks to different team members, move tiles around on the boards as projects reach different stages, set deadlines, and more. Plus, it offers a variety of integrations that make managing your team's workload through the software even more seamless. Our HR uses personalized Trello boards for onboarding new employees, helping us get up to speed faster than we would otherwise.
Trello, like many of these other softwares, operates on a freemium model. The baseline free model has enough features and capacity for a small team, but scaling it to the workforce at large would probably require the paid version.
6. Amber: Remotely measure employee engagement
Tools like Amber, our AI platform that tracks employee engagement, is a good way for HR and business leaders to keep track of employee engagement during this work from home period. She periodically reaches out to employees based on touchpoints, or Moments that Matter, and provides detailed, real time reports that help keep your employees connected. Now more than ever, frequent check-ins with employees are crucial. While working around people does allow you to glean some insight into peoples' moods and motivations, working remotely leaves you completely in the dark. Reach out to us if you want to know more about how 100+ companies are using AI in HR to stay on top of employee sentiment.
So stock up on nonperishables, ensure you have a 30 day supply of any crucial medications, and keep on keeping on at work with these handy tools!