Employees are the
new customers

in 2023
250+ brands power their employee experience with inFeedo





















Driving the science-backed
#peoplefirst

❤️ ️movement since 2016
"Through technology and machine learning, we are able to mine the minds and hearts of our people."
Continuous listening
at scale
Amber inspires honest conversations on autopilot with personalized, AI-driven surveys.
Instantly answer 84% of your employees' questions with an automated, 24*7 help system.
Track engagement, predict attrition, spot burnout, & more. Reinvent your people strategy.
Engagement
Helpdesk
Analytics
Learn how people-first leaders built their
winning culture
"Interacting with [Amber] is done so well, it feels human, it feels natural, it feels like I am talking to someone who is listening to me."
Terri Bresenham, President & CEO

"Amber has personally helped me counsel several people with a range of issues that they would have otherwise had no one to talk to about."
Mark Heap, CEO
"People are comfortable talking to Amber; they are comfortable sharing their thoughts and what they are going through."
Rohit Sandal, CHRO

More than just an AI bot.
Amber is your

Chief
Officer
Amber's proprietary NLP-engine wins your employees' trust because she remembers context from previous chats, understands intent, responds with empathy, and digs deeper whenever needed.
Your people.

Your tools. Your languages.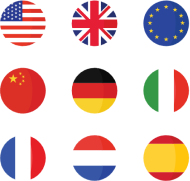 Engage your teams in 100+ languages

Enterprise-grade security measures to keep your private data, private!
Don't wait for the next
great resignation
Invest in your people today. If not now, when?
"Even if I 3X our number of HRBPs and they spent 4X the hours with each employee, that kind of insight would NEVER have come."