What is Employee First Culture?
An employee first culture is an environment in which employees feel comfortable sharing concerns, feel their voice is heard and respected, see opportunities for growth, feel respected expressing their opinion, feel that they have a fair work-life balance, believe in the core values of the organization, and are being treated fairly. All of these are key components of making an employee first culture, and you'll find employee first companies, like Microsoft Japan, prioritize all these key levers. So, how can you create an employee first culture?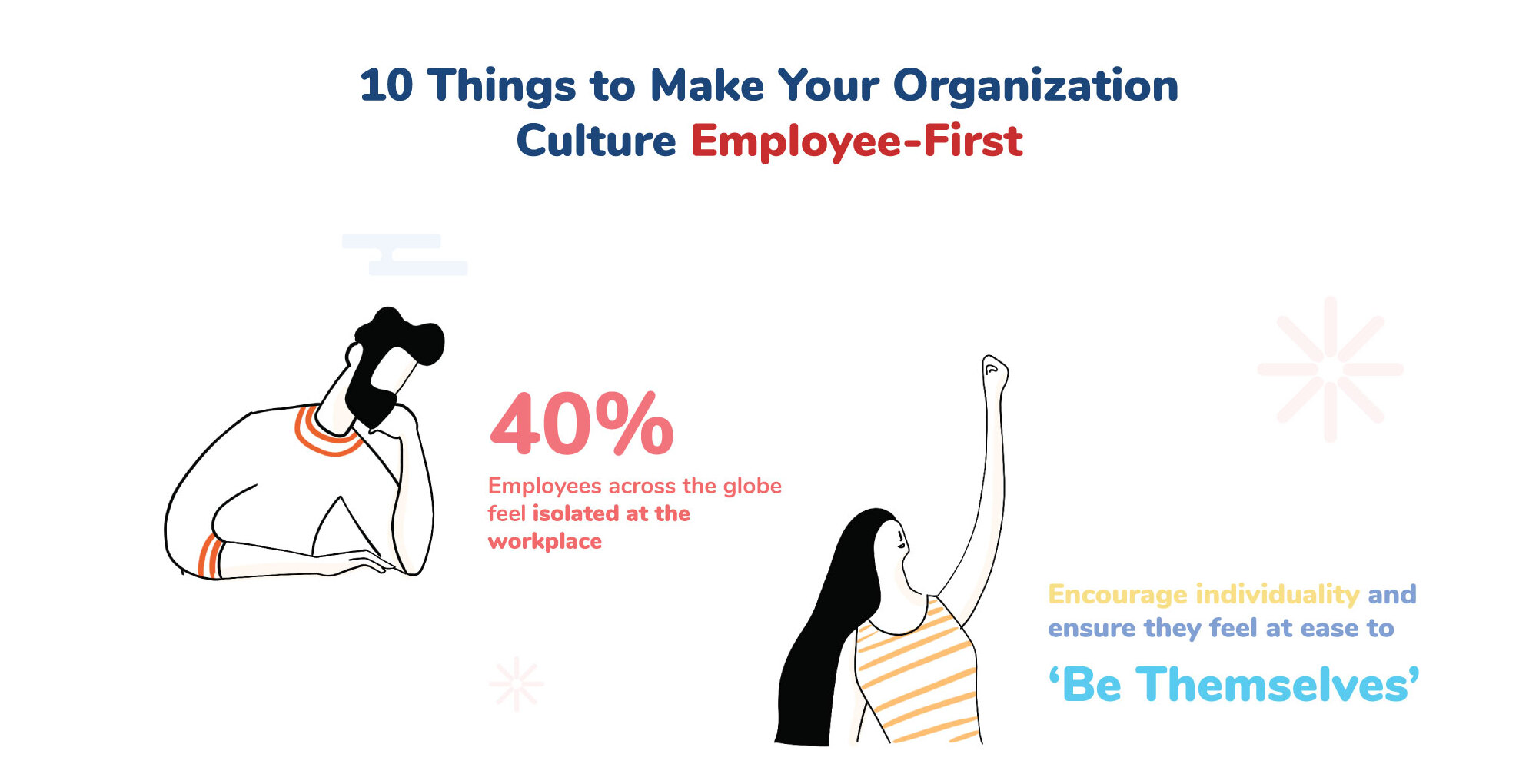 1. Be Themselves: A Priority for Employee First Companies
Every employee should feel that they can be their unadulterated self in the workplace. If you're forcing employees to adapt their personalities to fit a rigorously shaped mould you're in turn preventing them from bringing their unique skills, viewpoints, and innovative ideas to the table. We all do our best work when we're allowed to be ourselves, so don't limit your employees or else you'll see a decline in motivation and engagement, and risk raised attrition rates as well. Backfill costs are prohibitive, so retain your talent and you'll reap the rewards.
2. Caring Colleagues: Building Empathy
We all want our organizations to be filled with kindhearted employees who are able to empathize with their colleagues in order to boost mental health company wide. Making sure people feel safe and comfortable talking to their fellow employees will have a huge impact on company morale, a key component of any employee first culture. Team bonding exercises, informal gatherings, and other fun activities can play a huge role in helping your team develop the bonds they need to feel good at work.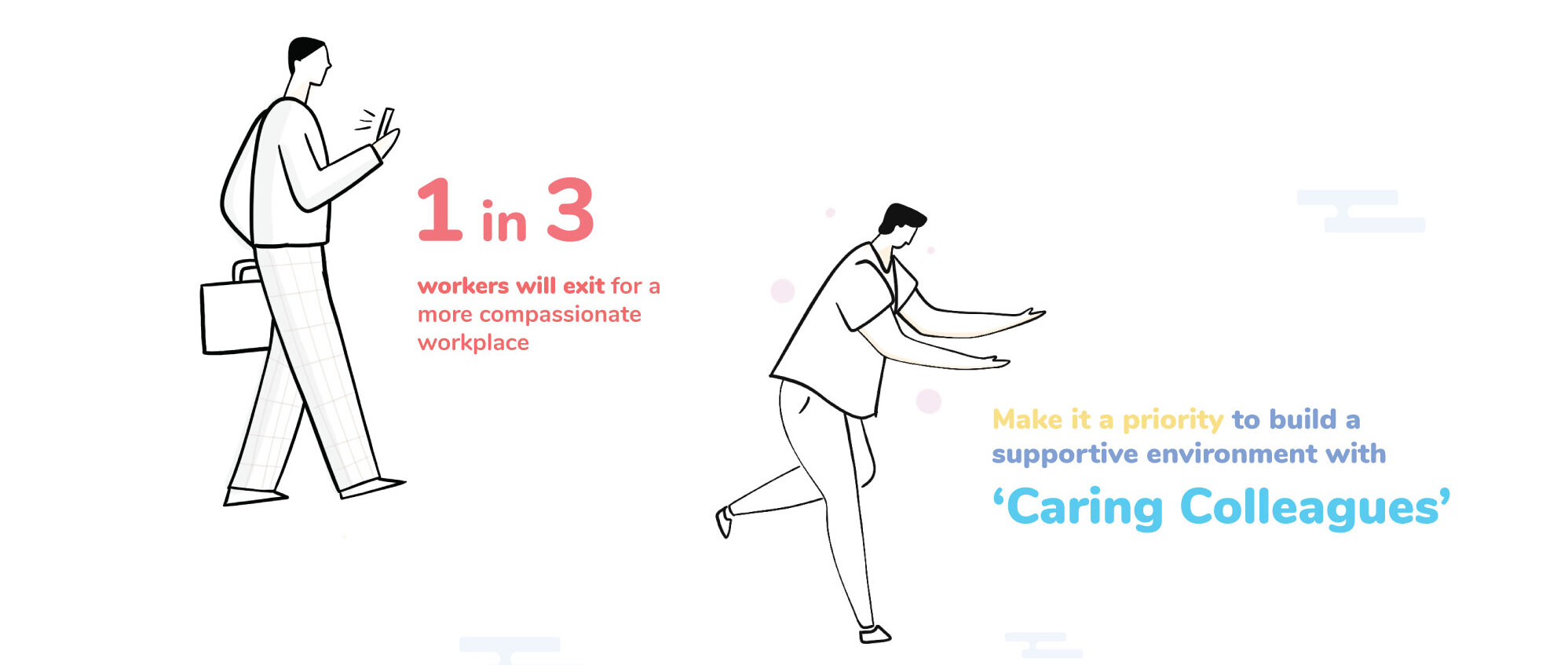 3. Culture of Respect: Making Everyone Feel Safe at Work
It's crucial that you cultivate an environment where people feel comfortable expressing their viewpoints, opinions, ideas, and ways of working without fear of judgement or reprisal. Having an idea dismissed without proper consideration or respect given to its merits is incredibly hurtful, as I'm sure many of us have experienced, and there's nothing more demotivating. Want to know more about how to build a culture of respect? Check out this blog on how to reinforce and strengthen diversity and respect in the workplace.
4. Democracy in the Workplace: Transparency and Two Way Communication
One of the central tenets of an employee first culture in the workplace is assuring top to bottom transparency, and making sure the employees feel involved in larger business decisions. A disconnect between rank and file employees and leadership is one of the quickest ways a company culture can turn toxic. To develop a positive workplace culture you need to ensure communication goes two ways. Through regular company wide town halls, and individualized reach outs you can smooth over any potential areas of friction. We're all about giving employees a voice through Amber, our employee engagement chatbot. The make or break is whether leadership considers feedback and keeps employees in the loop. Learn more about how to be a model leader who fosters an employee first culture here.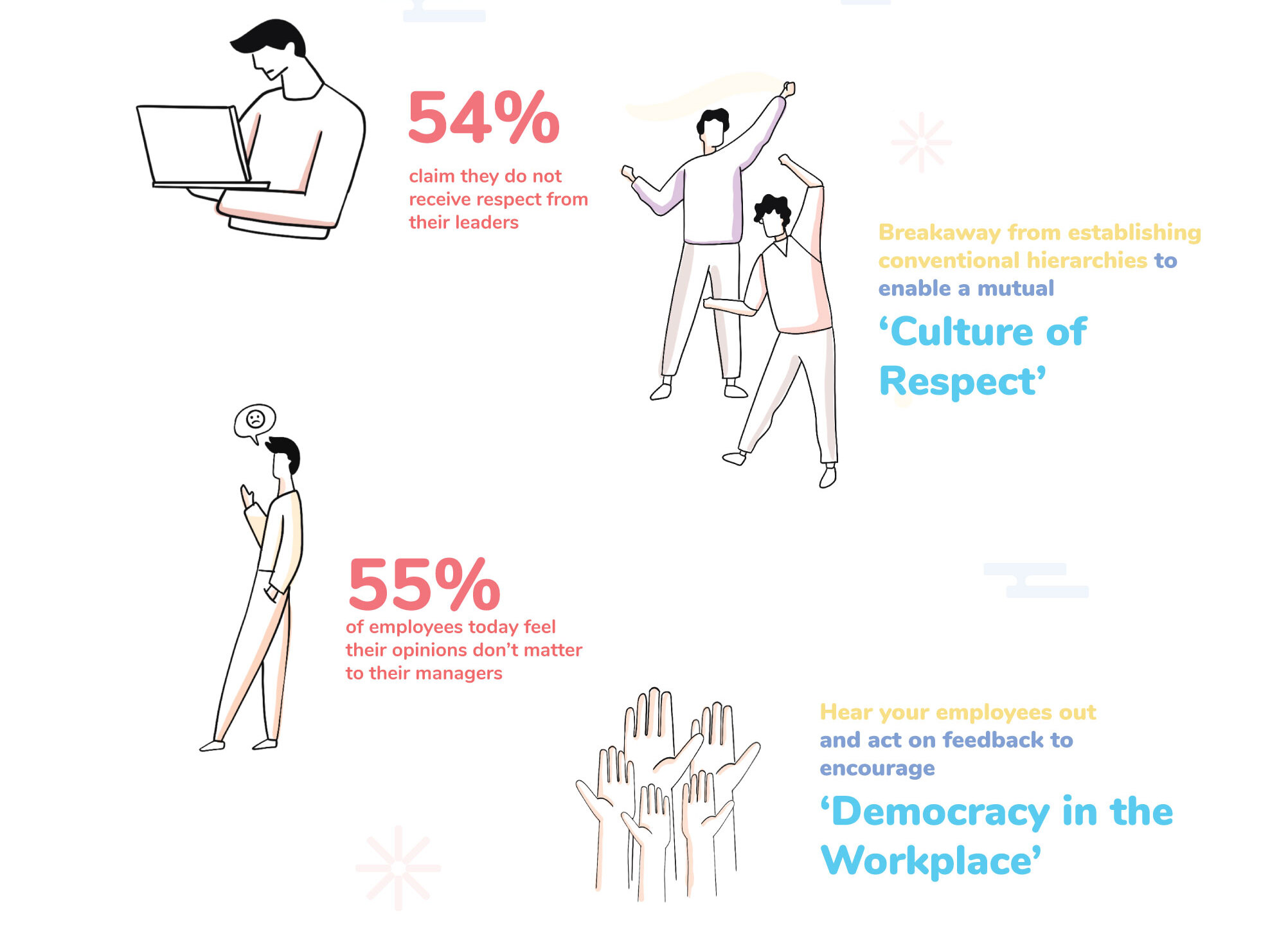 5. Fair Treatment: An Employee Engagement Chatbot to Express Concerns
Feeling like other employees are being treated differently, or that they're being passed over for promotions or opportunities is a quick way to cause an employee to start hunting for new jobs. Without opportunities for growth that are made possible by a fair and equal playing field there's no true incentive for an employee to stay within an organization. Fortunately, an employee engagement chatbot like Amber allows employees to make sure their concerns about preferential treatment are heard by HRBPs and CHROs, who can then pass on concerns to managers and work to help upskill them. As Angel Investor Vijay Amritraj wrote in this article, Amber knows whether or not your employees are happy at work. So get an employee engagement chatbot so you can stop attrition and build a positive workplace culture by making sure every employee is treated equally.
6. Fun and Friendly Workplace: More than an Office
Who doesn't want to work in a fun workplace? Events like company mixers, protracted engagement campaigns, and more can all help make your office a happy place to work. We all spend a great deal of our waking hours at the office (or, now, working from home), so why shouldn't we be happy doing it? Again, unhappiness in turn hurts the bottom line as lower morale and company loyalty will negatively impact productivity. There's an obvious line to be drawn between productivity and just goofing around, but doing things like implementing gamification techniques can help make work more enjoyable.

7. Performance Culture: Recognizing Top Talent
A performance based culture goes hand in hand with fair treatment in the workplace. Nepotism should never be the way employees move vertically in an organization, rather empirical evaluation of workplace performance should be prioritized. One key way to do this, and in turn build a positive workplace culture, is clearly defining goals and objectives for employees. Making the performance aspect as transparent and data driven as possible will help ensure all employees take pride in their work and are also accountable to hitting their numbers. Rather than be anxious over how they'll be reviewed by a supervisor using unclear criteria, staking OKRs and KPIs to data points will allow everyone to understand who is performing well, and why.
Want to ensure you're building trust with employees and enabling a performance culture? Check out this blog on how the best leaders build trust with their employees, and in turn promote a performance based culture.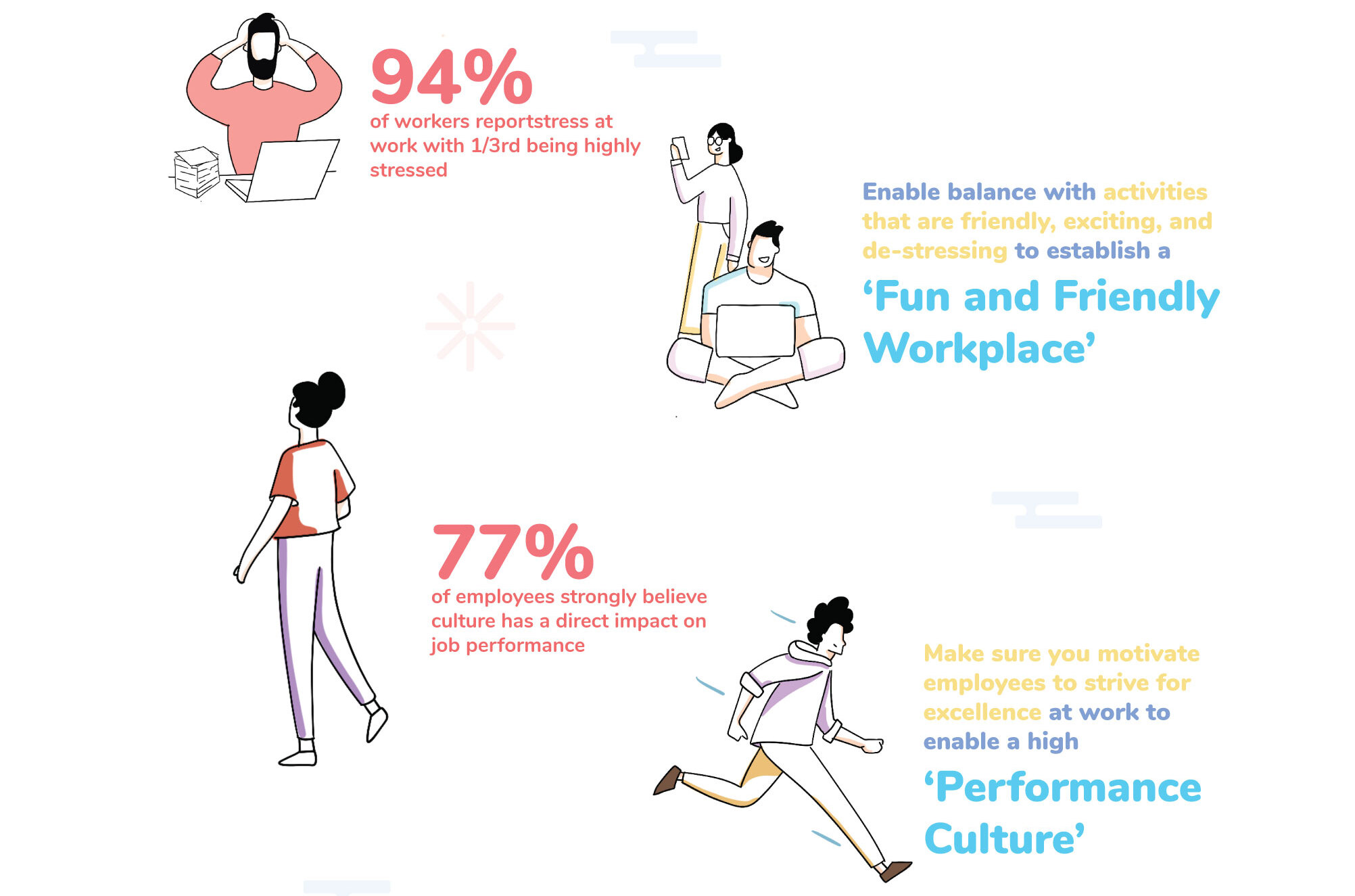 8. Sense of Pride: Believing in the Mission and their Work
One key part of building a positive workplace culture is ensuring all employees buy into the guiding tenets and values of a company. If you've worked to establish a strong culture and ethos it should factor into all decisions taken within the company. From this, the employees build a sense of pride about the work they're doing for the company. If they believe in the vision of the company they'll inherently be more motivated and inspired to perform. Having a high net promoter score is a huge part of building a healthy brand, both in the present and in the future when you hire. Having former employees leave the organization as brand ambassadors is a sign you're doing something right, and you should strive as a leader to ensure that everyone who joins the firm is proud to be there.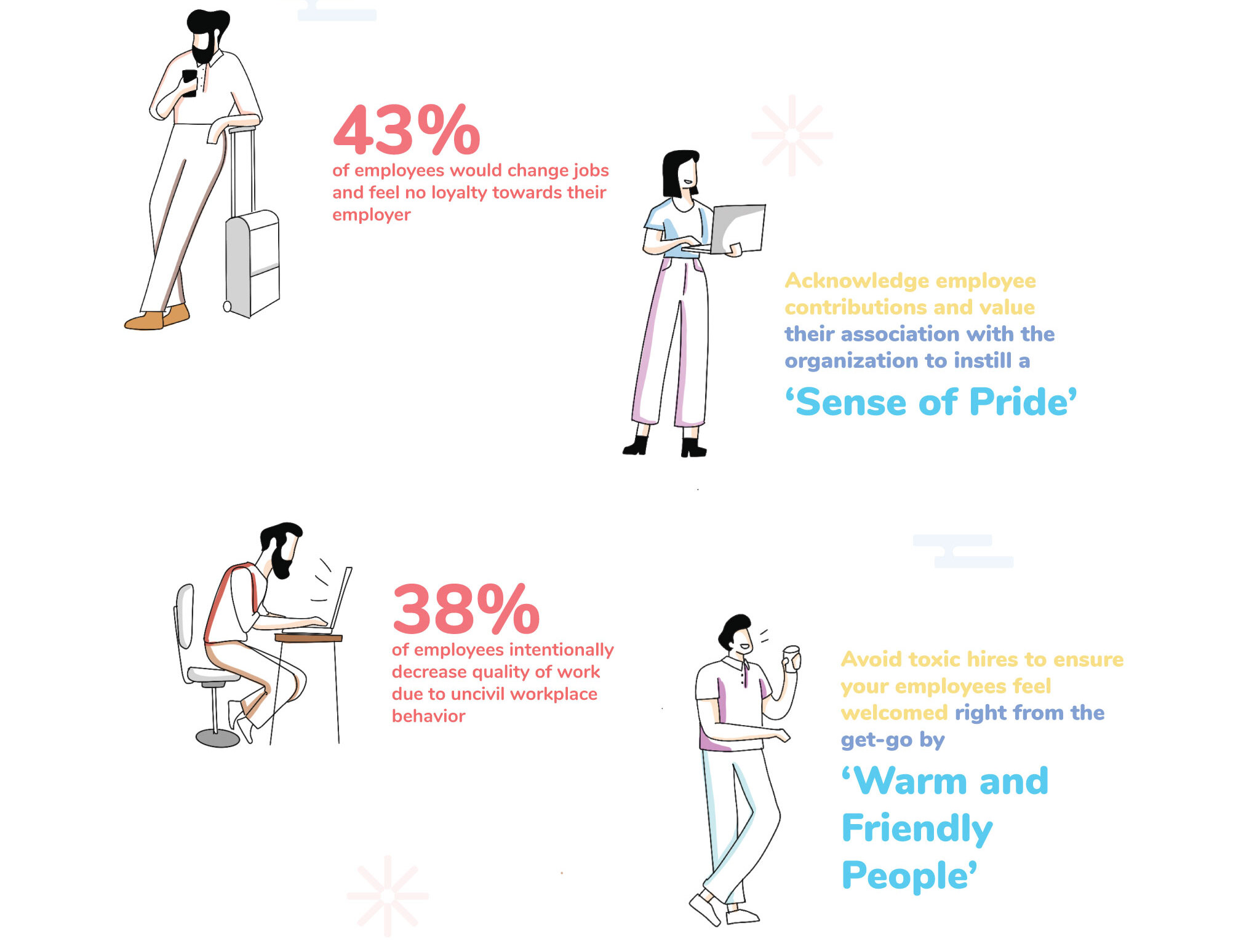 9. Warm and Friendly People:
Everyone wants to come into an office and be greeted by smiling faces. The intangible impact of positivity and cheerfulness cannot be undervalued, and it's certainly contagious. While it might be hard to do something as amorphous and subjective as asking your employees to smile more or wave at people, fostering a healthy work environment will help nurture these attitudes in your employees. Further, personal disposition should be a factor in the hiring process. HRBPs should take note of all candidates' personalities and demeanors, rather than solely focusing on performance and resume. An organization filled with talented but curmudgeonly employees is one that will fail, because without strong internal bonds morale will never be where it needs to be.
10. Work-Life Balance: How to Develop a Positive Workplace Culture with Time Management
Now more than ever, with the shift towards work from home, creating a healthy work-life balance for your employees is a key component in reducing burnout and keeping productivity high. In a work from home setting the lines between "on" and "off" are often blurred, so make sure you're not putting an inordinate amount of work on your employees' shoulders. While one huge benefit of work from home is flexible work hours, it's important that you're considerate of your colleagues working styles. If you find that you work well after what we consider to be "standard" working hours, hold off on sending messages at odd hours to colleagues. Try to align your periods of communication with the hours that most people are working.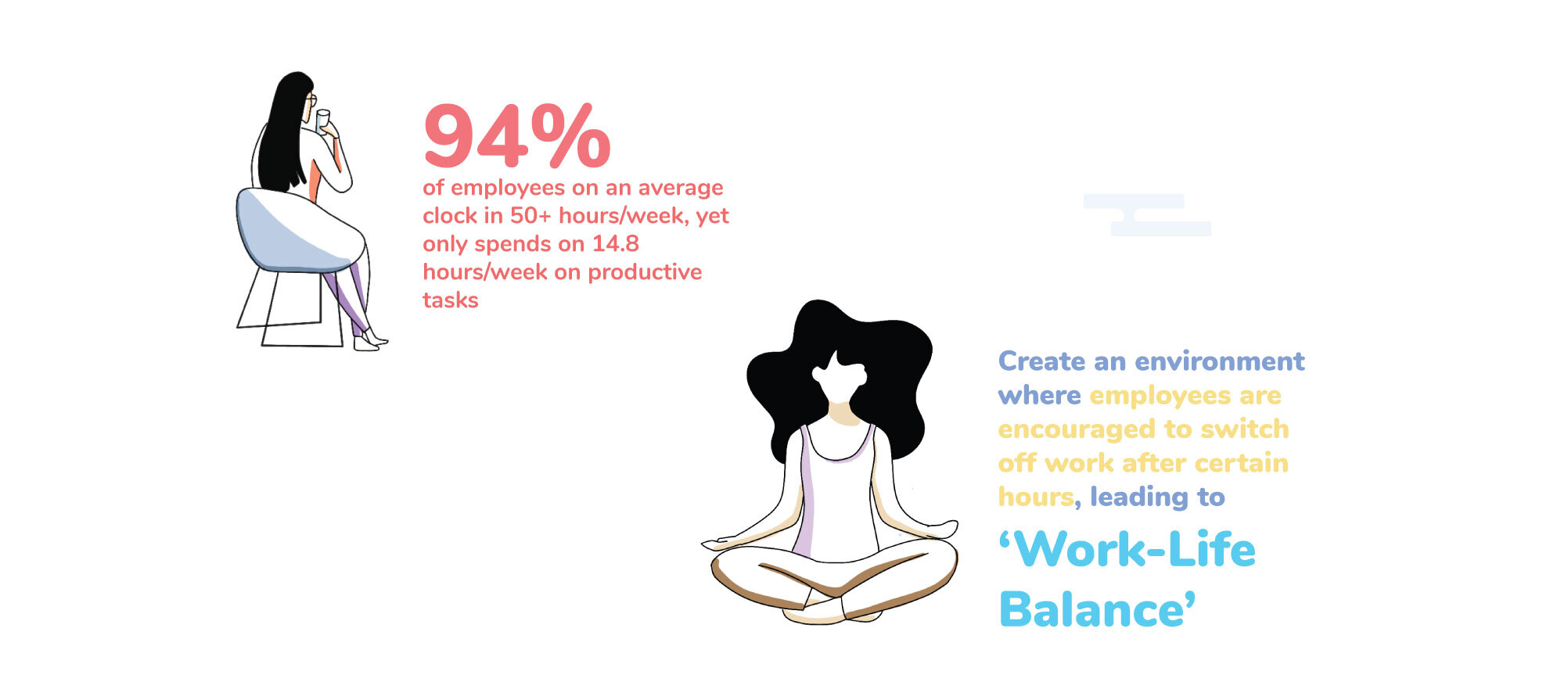 Your Ten Step Plan for Success
Follow these tips, and check out our additional resources to make sure you can develop a positive workplace culture. It's now more than ever important to be employee first, and the numbers back it up. Just check out any of our case studies on Amber's success at a variety of organizations. Want to know more? Sign up for your demo today.