It's not everyday you get 3 HR leaders from LI Top 10 Startups to be in the same virtual room, but it's 2020 and anything's possible. We had the pleasure of hosting a dream panel of Anuradha Bharat, VP People Operations at Razorpay, Tina Balachandran, VP People Operations at Unacademy, and Romita Mukherjee, Global HR Director at Whatfix for our recent HR Leaders Connect on "Building High-Performance Cultures at Growing Startups," hosted by our very own CEO, Tanmaya Jain. So, what did these kickass people leaders have to share with us as keys to ensuring continuity in positive company culture during rapid growth and hiring? We've broken it down into six key takeaways that you can plug into your organization today.
WATCH THE FULL SESSION HERE:
1. Building Better Managers
As Romita put it succinctly, managers are no longer just managers but instead must also be coaches and mentors. The best managers, and all people leaders, help the people they oversee develop new skills, learn on the fly, and take calculated risks. If employees don't feel supported and nurtured they'll never have the desire to step outside their comfort zone and make decisions that could knock their employer's socks off. For Tina and her team at Unacademy, promoting an atmosphere of "radical trust" with managers has allowed employees to challenge the status quo with the backing of their managers, resulting in outside the box solutions that have helped Unacademy scale rapidly.
The concept of a middle manager as being someone who takes credit for their subordinates' work and constantly looks to move upward is unfortunately all too real in some firms. These are the companies that fall apart, or see huge attrition numbers. Fast scaling startups need to be cognizant of the fact that training managers to be more mindful of their team's needs, nurture talent, and promote internal growth is the quickest way to build a high-performance culture. As more and more members enter an organization there will in turn be more and more managers, and their ability to foster growth and effectively indoctrinate new hires into an organization's culture can be the make or break for any scaling startup. If employees aren't challenged and respected simultaneously they'll never perform to their potential.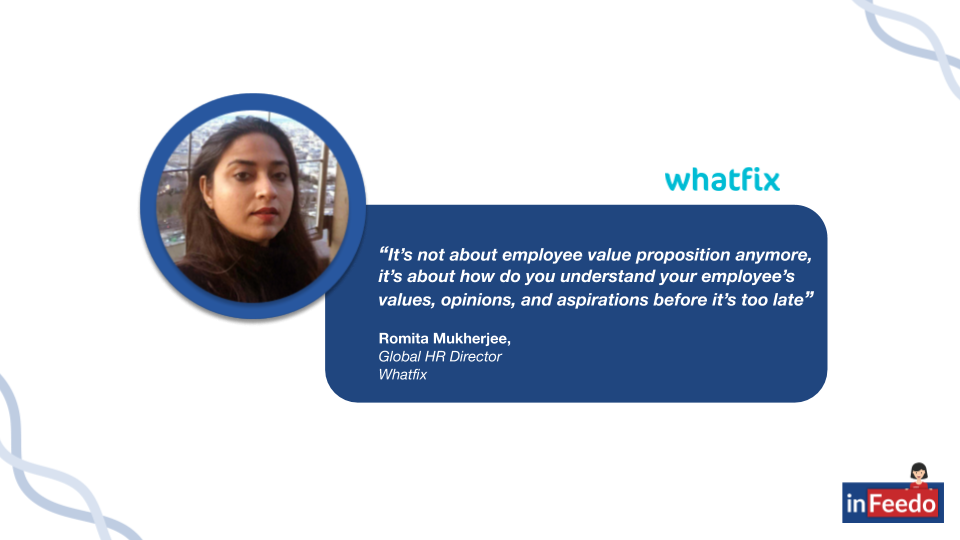 2. Engaging Your Culture Champions
When there's twenty people in an organization, it's a piece of cake to make sure you're all on the same page. In many cases, you'll all be sitting in the same room, working on the same tasks, and in constant communication. Chances are, if you ask every one of those twenty employees to summarize the company's culture in one sentence, you'd get a pretty homogeneous set of answers. But what happens when you have two thousand people?
That's why for Anuradha working closely with Razorpay's culture champions is one way her and her team have maintained a strong, high-performance culture even as they've scaled rapidly. It's all about ease of diffusion of a message or identity through an organization. With champions, or as Romita and her team refer to them, "anchors," you reap huge returns on indoctrinating vocal employees who believe in the company's vision as they become key drivers of culture at all levels of the organization. The buy in factor becomes contagious, and employees that fundamentally believe in the organization's value system will perform better. Further, by diffusing some of the responsibility for culture propagation to other employees you save HRBP bandwidth and allow your team to focus on HR specific tasks.
So how do you build culture champions? Tina and her team use both individual and group coaching to strengthen these relationships and ensure that culture champions are all on the same page. From there, their champs can help promote Unacademy's result oriented approach and help the organization retain top talent.
3. Top Down Commitment to Transparency
The quickest way to fracture trust and hamper performance is creating a divide between upper leadership and ground level employees. Employees who resent, or don't trust, their leadership will never be motivated or perform to the best of their abilities. How can you build transparency in your organization?
One key step Romita and her team took was switching to an OKR model for progress tracking. Data driven, cross-functional and leadership vetted numerical objectives remove any element of bias or favoritism that employees might feel. Making everyone, including leadership, accountable with a strong OKR framework will promote high levels of performance through empirical result measurement.
At Razorpay Anuradha and the rest of leadership have fostered a culture of open communication that makes decision making processes clear and available to all employees. Making employees feel included, and incorporating their voices, into decisions helps them to develop an ownership mentality, encouraging them to give their best and take pride in the work they do. For Tina and her team they've found that open communication from the top down is another way to ensure you can retain your top talent, which is a key component of building and maintaining a high-performance culture.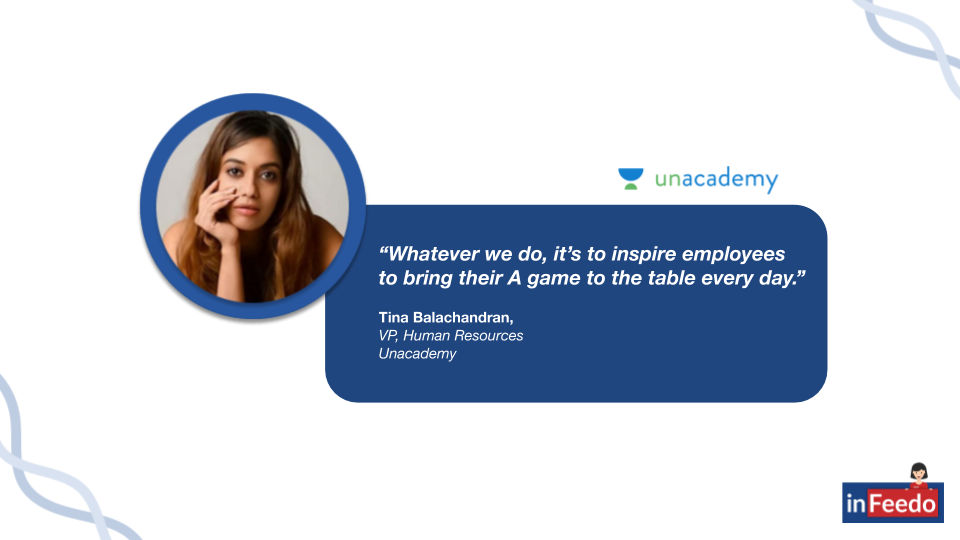 4. Fighting Siloing through Two Way Communication
One issue all the panelists addressed was how cross-functional communication both becomes more crucial and more difficult as organizations grow. It's all too easy in a large organization for functions' roles to overlap inadvertently or for teams to move in counterproductive directions when communication flags. In order to limit wasted work hours, constant two way communication is a crucial factor of any high-performance culture.
At Whatfix real time inputs through the OKR model, which ensures that teams are constantly aligned on empirical metrics, is one of the key ways teams stay on the same page. Further, all three panelists agreed that collaborative goal setting, and company wide meetings like All Hands, are a crucial part of ensuring organization wide communication. When functions operate independently they run the risk of redundancy and in turn self sabotage, so make sure you're facilitating frequent two way communication to ensure constant productivity in a high-performance culture.
5. Speaking the Same Language
One really interesting point Anuradha brought up was the importance of an "observation period" for all new joinees of an organization, including upper leadership. What did she mean by that, and how is it different from onboarding? For one, an important aspect of a high-performance is limiting miscommunication and confusion. When people are on different wavelengths, especially as an organization scales rapidly, you run the risk of incurring catastrophic amounts of wasted effort. Making sure new joinees are acclimated to not only processes in an organization, but also in the day to day functioning, jargon, and working style is a key component of ensuring smooth onboarding and ensuring new employees are able to contribute effectively. Otherwise, you run the risk of bringing in new, discordant philosophies or styles of work that threaten to destabilize central workflows.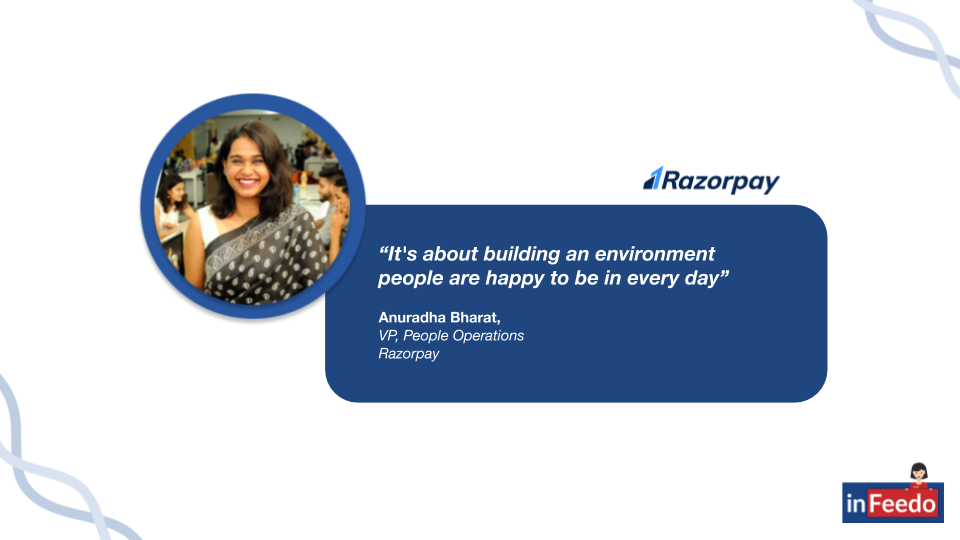 6. Fostering an Environment of Learning and Growth
Tina had a lot to share on this topic, as Unacademy is a leading player in the Indian educational technology ecosystem. What she highlighted as arguably the single most important factor in designing employee education programs was that one size does not fit all when it comes to L&D. Customizing and tailoring growth programs for individual employees is a surefire way to build better workers and foster a high-performance culture, especially if these programs all work towards building employees that fit your company's mould. Another key component of encouraging growth is ensuring that the work the employees are doing on a daily basis is challenging.
Romita also astutely mentioned her team's efforts to tie employee's goals to their personal aspirations. Aligning key business results with areas for personal growth gives the employee a vested interest in performing well for not only themselves but also for the company. The companies that help employees learn and grow as they themselves scale ensures that employees are able to go above and beyond, fill roles internally, develop new processes and internalize a go getter attitude. All of these are key components of a high-performance culture that rewards employees who take risks and are constantly willing to try new things.
We all learned a ton from these awesome female people leaders, and our over 150 attendees did too! What was particularly inspiring in listening to all of them speak was that every strategy they shared to promote high-performance work cultures were fundamentally about bettering the employees within an organization, and giving them opportunities to do more. It's crucial that as you scale your employees do too, and that they're willing to take on new challenges with novel ideas rather than being stuck in a game of proverbial hot potato when obstacles emerge. While scaling necessitates hiring, it also necessitates raising the bar for existing employees and continuing to push all employees forward. Whether it's learning and development, organization wide communication and transparency, or creating better management there are tons of key factors that can help your organization maintain a high-performance culture as it scales rapidly.
WATCH THE FULL SESSION HERE: