If you're among today's HR leaders, there's a good chance you manage millennials and know what millennials want from work. In this article, we pick our Top 5. Two years ago, millennials became the largest generation in the workforce and their ranks haven't stopped swelling since. And they have earned a notorious reputation of being workaholics and job hoppers. A recent study by Deloitte reveals 43% plan to leave their jobs within 2 years, and only 28% are looking to stay beyond 5 years.

Imagine how much you are losing if the cost of replacing an employee who makes $5,000 a month comes up to $30,000-$45,000.
To avoid such a scenario, all you need to do is hear out…
What millennials want from work: We pick our Top 5
1. Experience over one-sided engagement
Roughly translates to: Leverage analytics to gain real-time insights into workplace dynamics.
Gone are the days of annual engagement or climate surveys. You need to have a finger on the pulse of your workforce and connect with employees frequently, across channels, and in a manner that feels personal.

Quite a few US employers have positioned employees as typical customers and adopted analytical tools (like organisational network analysis) to map their journeys.
A majority of progressive companies are switching to predictive analytics and artificial intelligence to understand the pulse of their workforce and stay on top of employee sentiment.
What can you do?
Find out if your company needs to invest in a set of tools or mature the existing analytics practice to accurately measure engagement at a granular level. We already know surveys don't work so this might be the right time to replace them with something that is a little more intuitive and a lot more fun.
2. Quality of work-life balance
Roughly translates to: Develop flexible, inclusive policies that offer convincing reasons to 'settle down'.
For starters, this generation is influenced and motivated by two things: economic conditions and the Internet (read: social media). This means they have higher expectations from their workplace -- from wellness benefits to better salaries. 75% millennials prefer an office that allows them to work flexibly – anytime, anywhere. Most importantly, they value employers or jobs based on the quality of work-life balance it allows them to have.

Here's something we recently learned though.
The latest APA report highlights how technology and email can negatively affect mental and overall health of millennials. Called the "constant checkers", this generation currently feels overwhelmed by the number of work emails they receive. 41%, surveyed by Adobe, feel obliged to check their inboxes and they can never be completely caught up if they don't.
What can you do?
As we mentioned in #1, based on the insights on your workplace dynamics, curate your policies to reflect both benefits, well-being, and inclusivity. LinkedIn's Workplace Culture Trends states, irrespective of the generation the workforce may belong to:
51% feel strong associations with organizations that promote work-life balance

47% prefer a workplace culture where they can be themselves
As Jacob Morgan mentions in his book The Employee Experience Advantage, organizations that invest in experiences see 4x increase in profit per employee: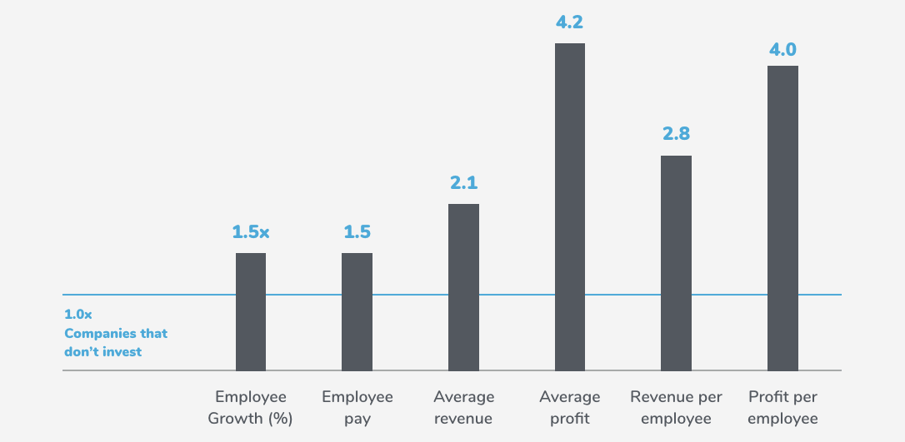 3. Empathy
Roughly translates to: Establish the notion of care at the workplace by hearing your employees out.
The 2019 State of Empathy study reveals over 80% millennials would leave their current organization if it were less empathetic or if there was an opportunity to join a more empathetic workplace. Overall, as Deloitte's Human Capital Trends study illustrates, this notion holds true across the workforce generations with 93% employees wanting to work with a company that is empathetic and ready to invest in career development.

No wonder, 91% CEOs believe empathy is directly linked to the organisation's financial performance
What can you do?
For starters, proactively show them that their career progression is an organizational priority – offering clear opportunities for growth and change.
And then, considering that most workers do not feel comfortable opening up to their managers or "representatives" of the organization', establish a neutral platform on which millennials can voice their opinions, and in turn, help HR take corrective action to shape organizational culture.
4. Continuous feedback with open dialogue
Roughly translates to: Do away with archaic feedback capturing mechanisms and encourage open, honest interactions.
Similar to why annual engagement surveys no longer work to engage your millennial workforce, annual performance reviews don't either. 74% millennials feel unsettled when they are kept in the dark about their work performance, and 40% feel annual reviews are too vague to be helpful.

Often mislabeled as the 'instant gratification' generation, the fact is millennials want to share and exchange ideas and opinions in a way where they feel valued at the workplace. Expecting continuous feedback is one way in which they are certain they can grow and excel at their roles, tying it back to what we discussed in #3.
What can you do?
Managers and team members along with leadership needs to share real-time, ongoing feedback both horizontally and vertically. This encourages individual progress and development besides having an overall positive workplace culture that values radical candour.

Invest in formal and informal learning and development initiatives that set clear objectives and ensure millennials feel challenged. Continuous feedback is one way of informally training your employees on the job and highlighting areas that need require further development. This in turn will help you uncover larger problem areas within the organization that requires your immediate attention.
5. Mentoring (not managing)
Roughly translates to: Reduce dependency on dated management systems, and encourage mentoring at the workplace.
Now that we have pretty clear profile on millennials, it's safe to say: this group does not want to feel "managed". Given that this generation forms the majority of the global workforce, most leadership roles in the near future will be filled in by millennials.

79% millennials strongly agree that mentorship programs are crucial for them to succeed at the workplace.
What can you do after you know what millennials want from work?
As we mentioned in #4, programs that are restrictive with guidelines may not fly well with this generation as its not what millennials want from work. However, by assessing your employee's skill set and L&D expectations, you can pair them up with the right "manager" or buddy them up with a team member. Formal programs should also be included, curated in a way that meets specific needs, captured from both 1:1 interactions and analytics tools.
This also enables scope for reverse mentoring which leads to exchange of feedback and knowledge-sharing on a continuous basis. The added benefit is this does away with the typical hierarchical structure and enables a flat management structure, allowing upward and lateral growth.
Click here to understand how you can gain quick, actionable insights to establish an inclusive, millennial-friendly workplace.