10 years ago, Vineet Nayar, former CEO of one of the biggest IT service companies in the world, turned organizational hierarchy on its head with four simple words: Employee first, customers second.
What is a business necessity today was the start of a revolution then, a shift in mindset — decentralizing decision-making, making leaders accountable to the employee while the latter became the center of experience delivery. Ever since, progressive companies have looked inwards and outwards to implement employee-friendly cultural and operational changes along with policies and mindful actions that show they care.
Why be employee-first?
We mentioned early on this year, companies that invest in strong EX strategies outperform in the market (see Global High-Performance Companies in the graph below).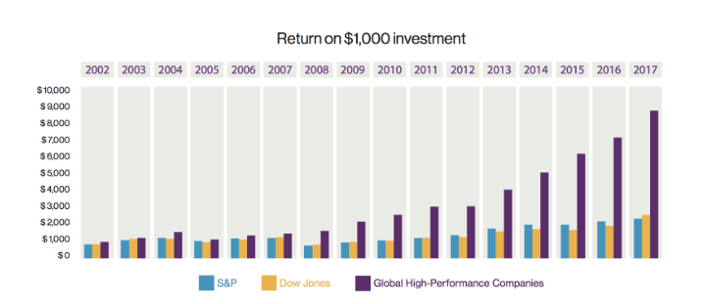 Having worked across organizations, we looked inwards and outwards as well to highlight 5 companies with the employee-first cultures based on their interactions with us and reviews on Glassdoor.
#1 Puma



What are employees saying on Glassdoor?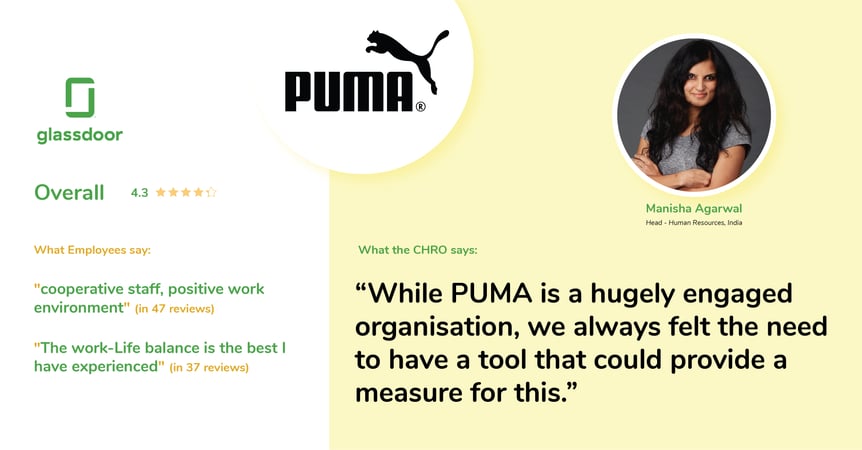 While an overwhelming 47 reviews on Glassdoor praises the "cooperative staff, positive work environment", the sentiment behind these 37 reviews is higher: "The work-life balance is the best I have experienced"
What does Puma's HR do differently?
Based on our initial interactions, we learnt from the HR team at Puma India that while their employee engagement was always high, they needed a solution to help them dig deeper and measure and enhance the:
Experience of their high performers and the success of retention initiatives

Impact of L&D initiatives to help their employees grow
What are their employee-first best practices?
The HR team regularly monitors, quantifies, and stays on top of:
Positive and negative impact of factors affecting employee experience

The sentiment around communication and take ready action on feedback

Constructive feedback exchange between managers, and employees
What the CHRO says
"While PUMA is a hugely engaged organisation, we always felt the need to have a tool that could provide a measure for this. The employee engagement surveys are static and are not able to capture the dynamic nature of human emotions." - Manisha Agarwal, Head - Human Resources, Puma India
#2 Makemytrip



What are employees saying on Glassdoor?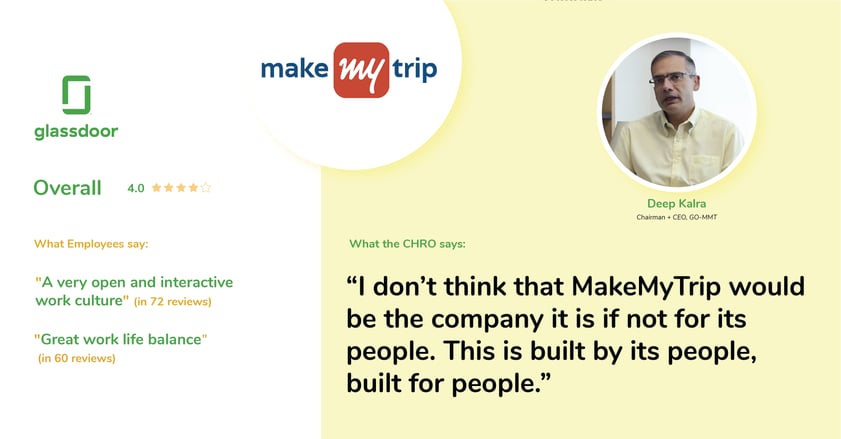 In an overwhelming 72 reviews, employees praise "A very open and interactive work culture", while 60 reviews applaud their "great work life balance"
What does Makemytrip's HR do differently?
An early adopter of employee-first practices, our discussions with Makemytrip's HR team helped us narrow down their three major objectives to enhance their employees' experiences at the time.
Reduce their HRBP: employee ratio of 1:300 with a tool that can connect with 3000+ employees in real-time.

Understanding employee sentiment patterns while in the midst of a major merger with Goibibo and Redbus

Replacing dated annual surveys with a a built-to-context platform to capture evolving workplace dynamics and understand the needs of a fast-paced millennial workforce.
What are their employee-first best practices?
As the HR team has automated most of their manual labor intensive processes, they now:
Prioritize and focus on high-risk employees highlighted using real-time sentiment analysis

Involve business Heads and HRBPs in action planning based on insights and findings generated using predictive people analytics.
What the CHRO says:
"I don't think that MakeMyTrip would be the company it is if not for its people. This is built by its people, built for people." - Deep Kalra, Chairman and Group GEO, GO-MMT
#3 Altimetrik Uruguay



What are employees saying on Glassdoor?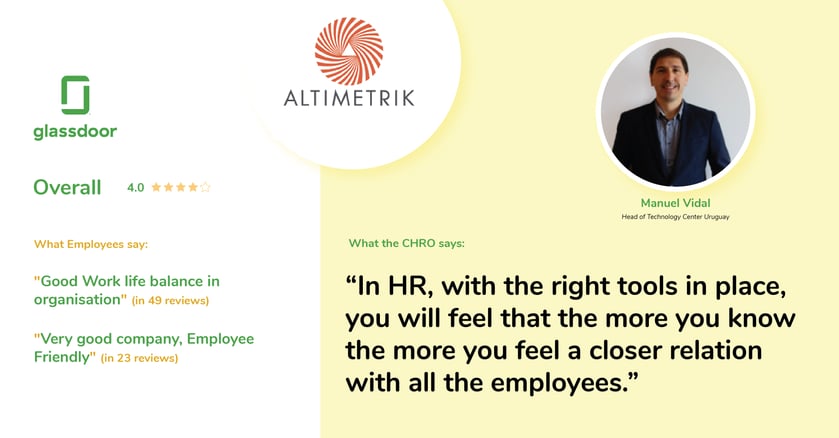 In 49 reviews, employees praise the "good work life balance in organisation" and 23 reviews cite Altimetrik Uruguay as a "very good company, Employee Friendly"
What does Altimetrik Uruguay's HR do differently?
When we spoke to the HR team at Altimetrik Uruguay, they told us that as they scaled from 60 to 200, it was critical to maintain their connection with the workforce. This meant:
Replacing classical tools like the annual surveys, typical processes of performance reviews with a tool that got them face to face with employees they needed to meet

Managing and maintaining trust and core cultural values by understanding their employees' sentiment in real time

Using technology to bridge gaps between leaders and employees and ensure transparency in communication
What are their employee-first best practices?
Altimetrik Uruguay's HR team now regularly:
Uncovers insights on employee sentiment to build action plans that can improve experiences and reduce attrition

Use predictive analytics to confirm what's working well and areas of improvement when it comes to employee engagement strategies
What the CHRO says:
"In HR, with the right tools in place, you will feel that the more you know the more you feel a closer relation with all the employees; no matter the size of your company, you will know what is happening with all of them." - Manuel Vidal, Head of Uruguay Technology Center, Altimetrik Uruguay
#4 Myntra-Jabong
What are employees saying on Glassdoor?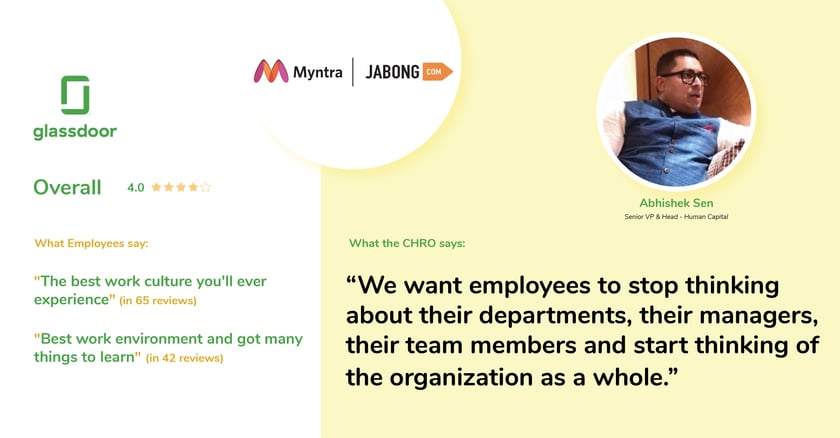 65 reviews on Glassdoor are in awe of "The best work culture you'll ever experience" while 42 reviews highlight "Best work environment and got many things to learn."
What does Myntra-Jabong's HR do differently?
We learnt from the HR team at Myntra-Jabong that they needed to enhance employee-centricity much like their approach to their customers. This led to:
Realigning employees with the company's mission and reinforce the value code - MAGIC (making it happen, aiming high, greatness together, integrity, customer-centric approach)

Understanding and deep diving on factors that lead to disengagement to create employee-focussed strategies
What are their employee-first best practices?
Today, the HR team at Myntra-Jabong:
Regularly track and monitor employee behavioral trends and act on pain points highlighted using AI-enabled tools

Works with the CEO and uses a data-driven approach to keep a finger on the pulse of their workforce and solve employee issues directly irrespective hierarchy
What the CHRO says:
"We want employees to stop thinking about their departments, their managers, their team members and start thinking of the organization as a whole." - Abhishek Sen, Senior VP & Head - Human Capital, Consumer Experiences and Corporate Services, Myntra
#5 GE Healthcare



What are employees saying on Glassdoor?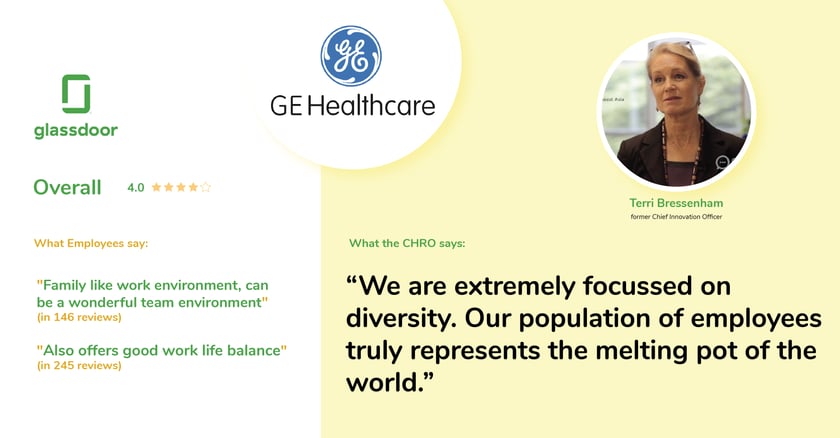 A whopping 146 reviews have applauded the "Family like work environment, can be a wonderful team environment" and an even larger 245 reviews mention "Also offers good work life balance".
What does GE Healthcare's HR do differently?
In a discussion with GE healthcare at the time, the HR team wanted to stay ahead of the curb and continually focus on keeping a diverse set of employees happy, motivated, and engaged at the workplace. This meant:
Using a different, more "natural" channel (instead of annual surveys) to focus their efforts and understanding on employee needs and expectations

Building direct, meaningful connects with employees spread across the globe with different levels of experiences at the company
What are their employee-first best practices?
Since the last time we spoke, we learnt the HR team does:
Proactively devise data-driven action plans to effectively engage employees to reaffirm they are being heard

Round-the-clock monitor of the engagement index to understand how their employees related to the company's mission and vision
What the CHRO says:
"We are extremely focussed on diversity. Our population of employees truly represents the melting pot of the world." - Terri Bressenham, former Chief Innovation Officer, GE Healthcare
Curious about how these companies redefined their HR processes to reflect their employee needs and expectation? Write to tanmaya@infeedo.com.