In July 2019, Glassdoor's Diversity and Inclusion Study (1) uncovered 49% or nearly half of the employees surveyed across US, UK, Germany, and France have experienced some form of negative bias be it:
Ageism

Racism

Sexism

Gender discrimination across the LGBTQI spectrum
Not only Glassdoor, our People Scientist brokedown the numerous biases we constantly encounter at the workplace and how this in turn a massive deterrent to your organization's culture.
Thankfully, companies are taking note of the need to build diverse teams within an inclusive workplace. Why? Not just us, major research reports will confirm that diverse and inclusive teams outperform their peers, and employee-first organizations with inclusive talent practices generate 30% higher revenue per employee.
Last year, we got in touch with over 50 CHROs across leading enterprises (some of whom are customers we serve!) to learn about engagement hacks they apply to keep their workforce motivated. What we uncovered are simple practices and philosophies that are inclusive and cater to a diverse workforce.
We bring you 6 lessons in diversity and inclusion (D&I) straight from progressive HR leaders across the world:
1. "Take a look at the mind, body, heart of your employees"

- Accenture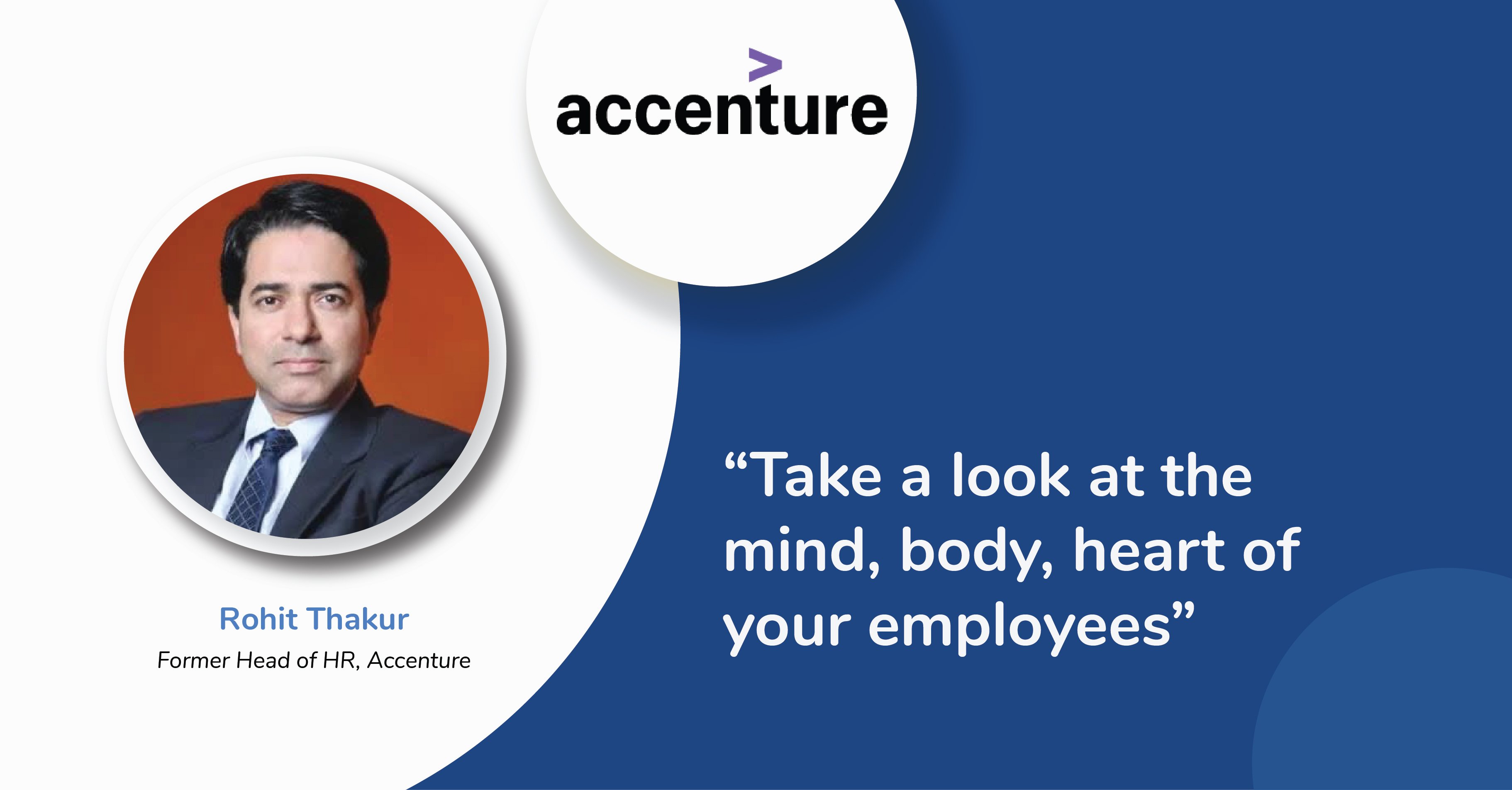 In conversation with the former Head of HR at Accenture in 2019, Rohit Thakur explained that what has really worked for Accenture is looking at employee engagement from a mind, body, heart, and soul perspective. What they call being truly human. The entire employee engagement in terms of mechanism as well as branding focuses on the human experience irrespective of the employee's gender, race, ethnicity, culture, and so on. We learnt their HR teams across India have created a platform through a series of hashtags for employees to showcase their experience, passion, career, and more.
Accenture's D&I initiatives in the spotlight:
We did some digging, and according to the recent Thomson Reuters Diversity & Inclusion Index, Accenture ranks number 1 as the most diverse and inclusive workplace in the world. Here's why:
Diverse leaders across the board: The board of directors comprise a healthy gender and geographic representations (6 countries across 4 continents) which includes the lead director.
Investment in talent development: $935 million in learning and development, which included re-skilling in AI, robotics, and more.
Equal workplace goals: The company plans to increase the percent of women in the workforce from 41% to 50% by 2025.
Transparency with workforce data: Historically, Accenture has always been transparent in sharing comprehensive workforce demographics data in the US and was the first professional services company to do so.
2. "Our employees that drive employee engagement." - Ameriprise India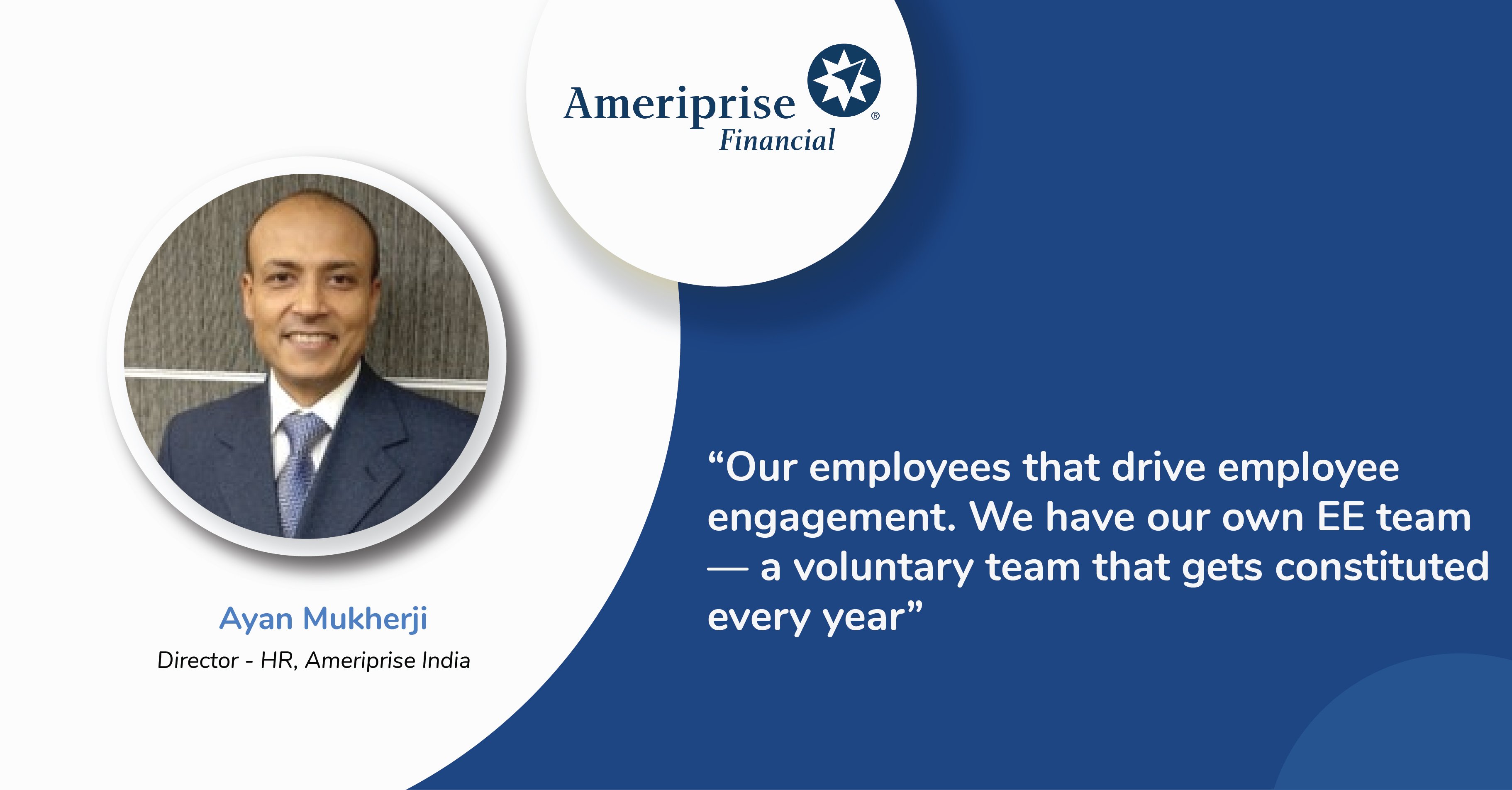 While talking to Director-HR at Ameriprise India, Ayan Mukherji shared key aspects to their strategy when it comes to engaging their diverse workforce. The first level includes engaging employees through their first-of-a-kind Game Zone replete with snooker, Wii, table tennis along with activities like women's cricket, badminton and more. The second level is even more interesting.
Very early in their journey, they realized that the moment there is HR solely looking into employee engagement, it becomes an HR-driven activity. From thereon, it has been a voluntary employee engagement team that gets constituted every year — led by one of the Vice Presidents of the company who could be part of Finance, Operations, and so on. This diverse team ensures the company looks at all dimensions of employee engagement.
He says, "Engagement is meticulously planned and data-driven to include different activities, where fun is just one area. In fact, we call fun 'serious fun' at Ameriprise because it's intellectually driven. From pottery competitions, weight loss challenges to providing free child care facilities, it's employee engagement for the people by the people!"
Ameriprise's D&I initiatives in the spotlight:
While researching this, we found that Ameriprise Financial recently has been included in the 2020 Bloomberg Gender-Equality Index (GEI). This index tracks public companies and their performance in terms of transparent gender reporting and policies and practices that support women in the workforce.
Ameriprise treats diversity and inclusion as a continuous journey and:
Invests in employees in terms of talent development, innovation, and client relationships

Empowers employees through learning and development initiatives

Encourage ideas and strategies from employees that will add value to the company

Volunteers time and contributes resources to those in need and takes on programs that can give back to society
3. "If we can listen to our customers daily then why [can we] not listen to our team members." - EMAAR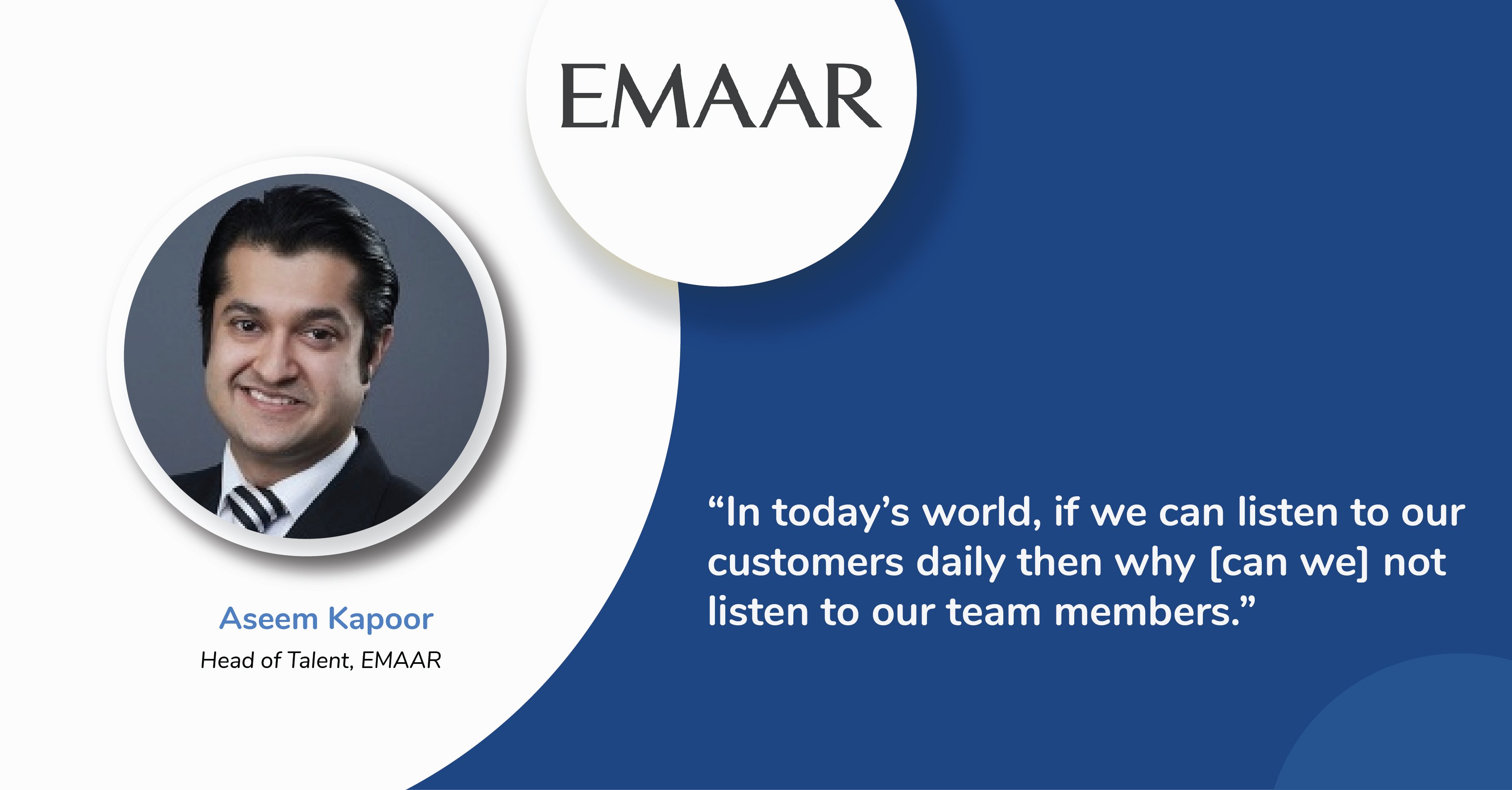 Talking to the Head of Talent at EMAAR, Aseem Kapoor spoke about the inefficacy of annual surveys. He says, "One of my main issues has always been annual surveys, which I believe doesn't add much value and are more a reactive, tick-the-box administrative burden. In today's world, if we can listen to our customers daily then why [can we] not listen to our team members" He mentions the need for "daily pulse check-ins, which provide an indication of emotional connect/sentiment analysis of the team on an on-going basis and addressing issues as we go along. Engagement has to be an on-going journey and not an event!"
EMAAR's D&I initiatives in the spotlight:
We found several diversity and inclusion initiatives when we did our research. The top 2 to highlights are:
'Hiya' development strategy for women workers: In conjunction with the UAE's government to promote female participation at the workplace, Emaar's Hiya strategy aims to achieve 30% female representation in executive leadership position, 50% in general manager roles, 40% in management, and 32% in supervisory positions. The aim has been to ensure gender partity at the workplace.
Middle East Action for Diversity Council: Most recently, the Women in Leadership Economic Forum brought leading organizations like Facebook, Siemens, FedEx, General Motors and Emaar Hospitality to close the gender gap and introduce initiatives at their workplaces in the Middle East.
4. "A lot of importance is given to employees as they are a vital part of AT&T culture and its growth." - AT&T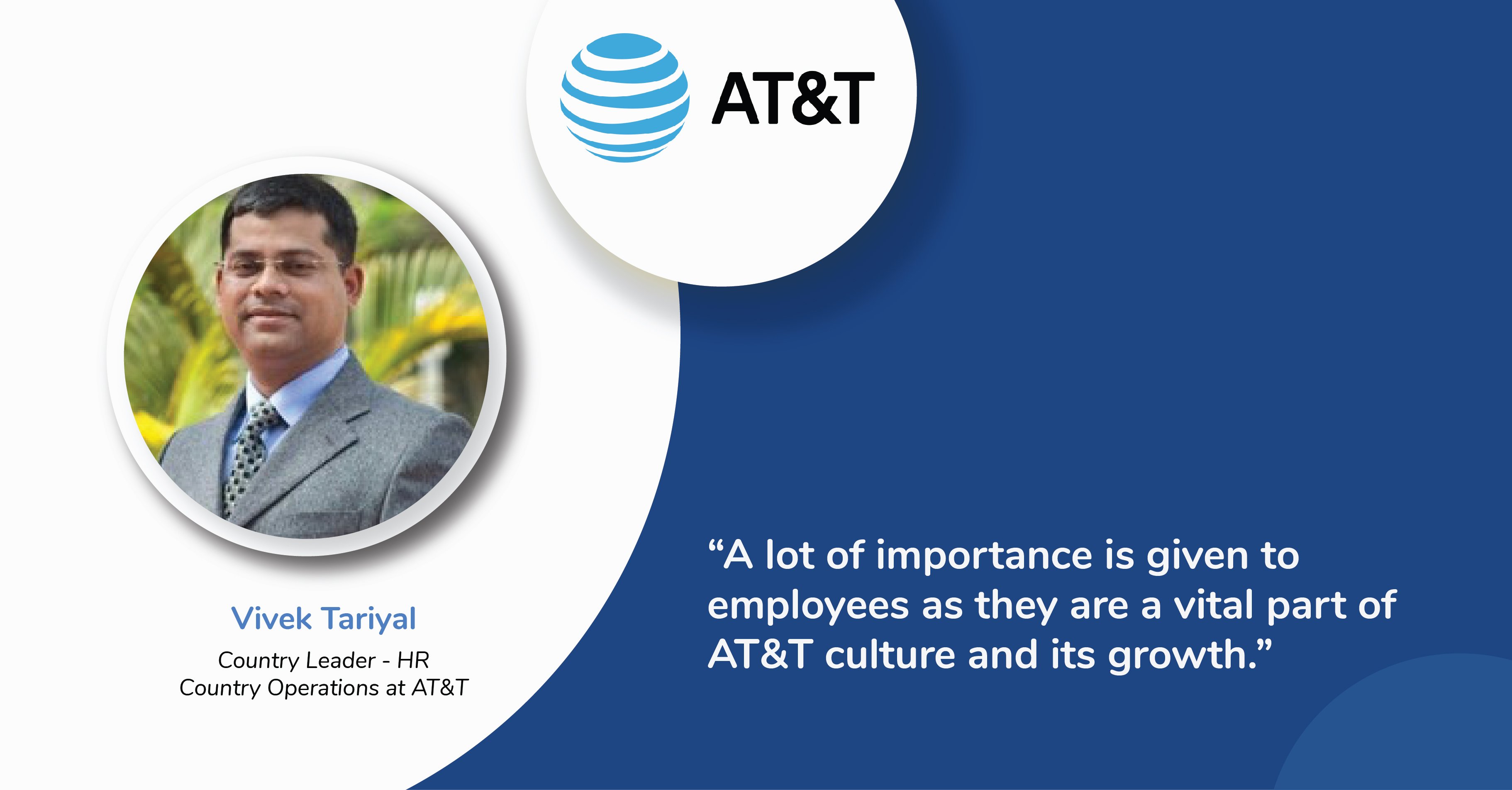 When talking to the Country Leader - HR Country Operations at AT&T, Vivek Tariyal shared extensive meaningful insights on how he defines engagement in a diverse workplace like theirs. "What are usually called hacks are imbibed in our system already. We are a US-based company with over 2 lakhs employees across the globe. There's a lot of respect for the workforce. From encouraging employees to pursue educational courses across partner institutions (related to L&D) to leasing cars and borrowing loans, the policies, especially when it comes to employee engagement programs, are tailored to ensure employees have access to different facilities and resources. Coming to our basic policies, a lot of importance is given to employees as they are a vital part of AT&T culture and its growth. Our attrition rate is in single digits and the average tenure of an employee in India is 6 to 7 years, and in the US, this can extend to 17 to 18 years."
He also adds, "Some of the activities that HR undertake are let out to the employees as we feel they should be engaged in the company. For example, some companies conduct annual events which you will usually find HR taking ownership of. At AT&T, the employees are given the opportunity to collaborate and execute such events. So the organizing committee is basically only employees that execute the employment engagement activities. HR does not intervene in all these aspects; we monitor from far, while our employees take center stage. HR gets involved in grievances and so on, but certain aspects of engagement require employees to be involved so that they understand their importance with regard to the growth of the company."
AT&T's D&I initiatives in the spotlight:
AT&T has always been in the news for its diversity initiatives. DiversityInc had ranked this company as one of the top 50 companies for diversity in the last 16 years.
90% of AT&T's employees believe that the company is committed to diversity and inclusion wherein:
Difference in opinions are openly discussed within teams

Supervisors work effectively with people across gender, race, experience, education, and so on

Sufficient mix of team members with different background, experience, personal characteristics and mindset are present across the company

Employees treat each other with respect regardless of their race, ethnicity, lifestyle and so on
5. "Our key focus area is to nurture and develop talent to build critical business capabilities and motivate our millennial talent." - Evalueserve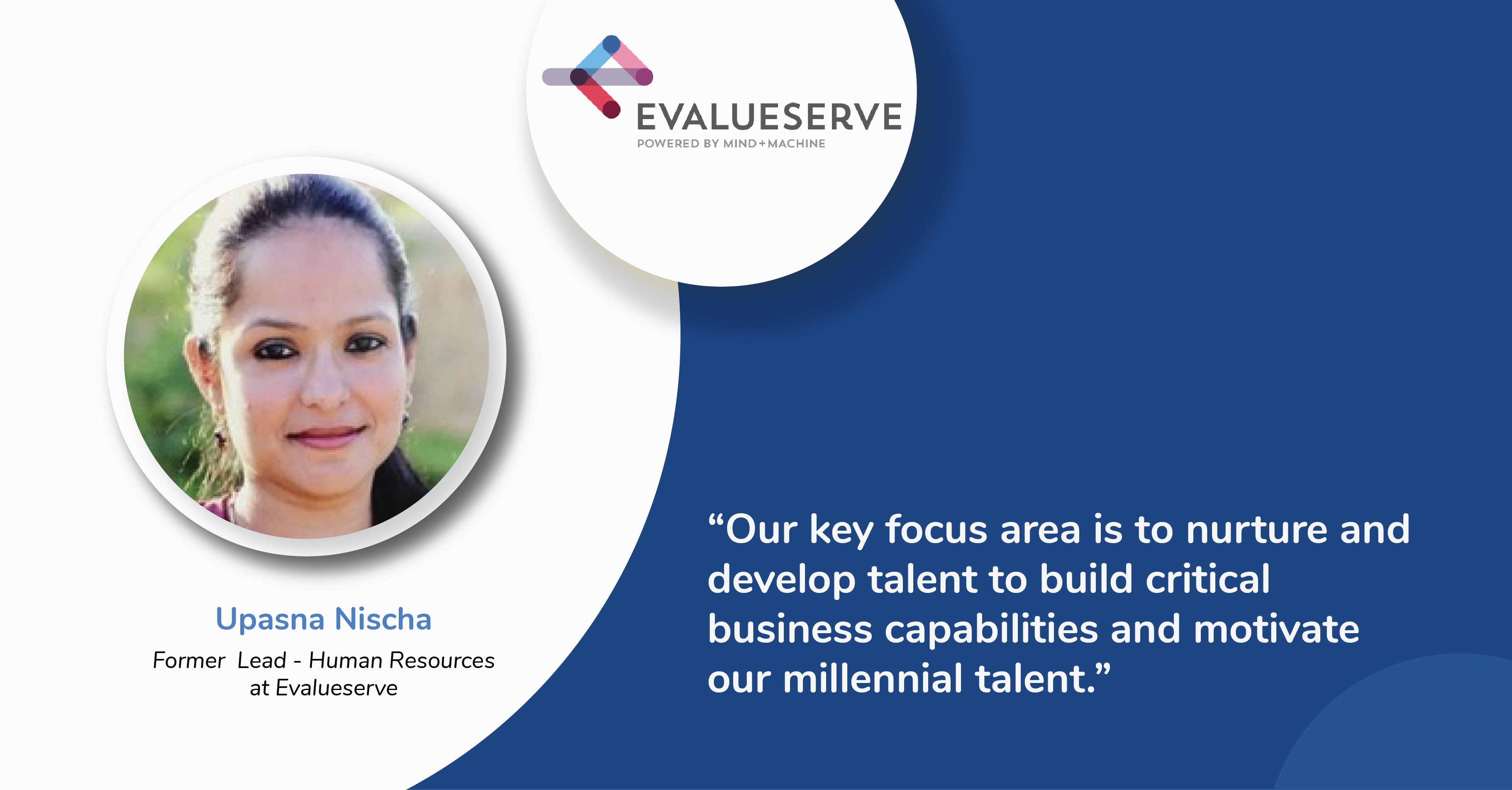 Talking to the former Lead-Human Resources at Evalueserve India last year, we learnt from Upasana Nischal on the stringent focus the HR team gives to "providing great experiences to employees on an ongoing basis to strengthen employee engagement. One of our key focus areas for us is to nurture and develop talent to build critical business capabilities and motivate our millennial talent."
Evalueserve's D&I initiatives in the spotlight:
We correlated some of the insights Upasana shared and learnt more about their L&D initiatives that have been built for engaging the diverse, millennial workforce. Straight from the horse's mouth, we learnt of this two-day Development Conclave that was conducted in 2019. She mentioned, "This internal engagement event was called "ILLUME, and offered gamut of learning experiences to its employees in engaging and exciting formats. The Conclave was a one-of-a-kind event offering learning through internal and external speakers who shared their insights, several game-based learning experiences, mobile bot and app based development interventions, coaching sessions with esteemed professional coaches, group mentoring with senior leaders, career booths with business experts, fire-side chat discussions on trending topics, and so on. It was a one-stop-shop experience for take-away tangible development tips. The event was attended by more than 650 people and received very positive feedback."
6. "Success in business starts with success in engaging employees." - AXA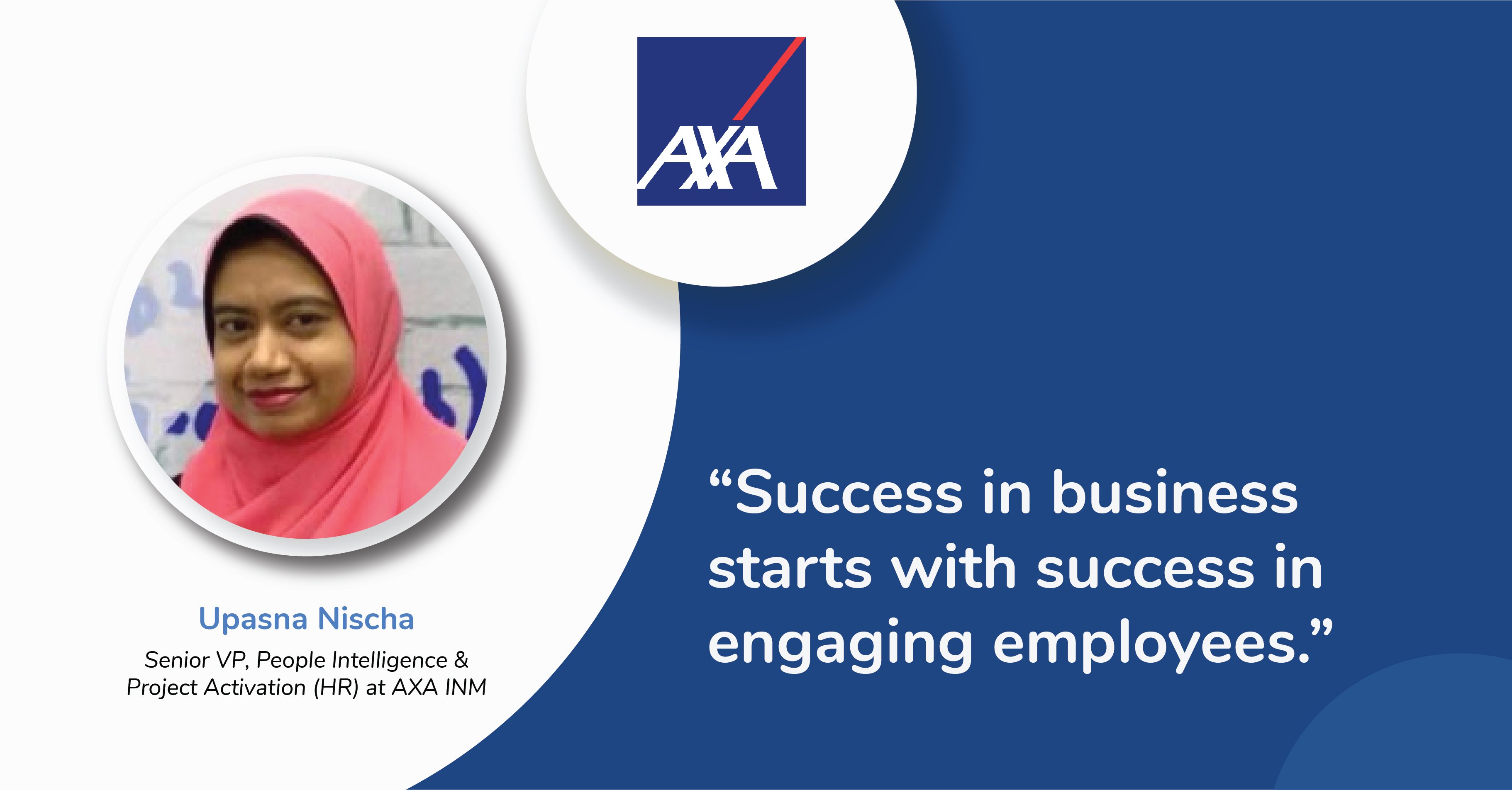 In a brief conversation with the Senior VP - HR at AXA INM, Safina Mohd Ibrahim shared simple yet effective employee-first policies. "We strive towards providing an engaging workplace environment which will support the cultivation of a high-performance culture." Among the few flagship initiatives she mentioned were:
"Compressed Working Schedule Arrangement

Flexi Lunch Hour

Employee Wellness programs via an easy to use application

Special discounts and perks for AXA employees for using the brand's products

Employee Social Responsibility Leave: We believe in empowering our employees not only within their work but also in their personal lives whereby contribution to society is one of the key components. Through volunteering, it improves not only the lives of our employees but also the society as a whole."
AXA's D&I efforts in the spotlight:
In 2020, we learnt AXA Gulf was planning a move to a new location and space at Bahrain Bay. This was done to enable a more comfortable workspace while ensuring a more customer-friendly location.
This move to a green building with state-of-the-art facilities is part of their diversity and inclusion strategy, and architecturally includes ramps for wheelchair access, braille on life panels. This workplace also meets and exceeds News Ways of Working (NWOW) standards to improve overall collaboration across teams and the work-life balance for all employees.
These companies are leading with example, keeping their diverse employees needs and expectations in mind to ensure a happy, motivated workspace. Find out how these progressive leaders maintain meaningful connections across the workforce. Write to us at tanmaya@infeedo.com.