Before 2020, VUCA was another management jargon, something fancy we said on a stage or put in that slide to turn a few extra heads. Volatile, Uncertain, Complex, Ambiguous. Looking back at the year, everyone can agree: 2020 is VUCA personified for the modern world, a truly global crisis of our times.
The businesses and societies have endured monumental uncertainty. In addition to a sharp workforce transition, leaders and HR had to revisit communication, collaboration, engagement, and culture within the workforce. Most of us had to create knee-jerk plans; the changes were swift and sudden. Organizations with a strong on-ground listening tool and a direct voice channel for employees helped HR steer the course to ensure employee wellness and business continuity. HR-Tech and Employee Experience catapulted itself from a progressive investment to a necessity.
How Amber Evolved to Fill the Employee Listening Gaps
When we first started talking about employee experience (EX) with Amber, we built individual employee journeys from hire to retire, used empathy and sentiment analysis on all feedback, and integrated moments that mattered across the employee lifecycle. The EX framework we designed was built keeping 'employee at the center of design.'
As we enter a new World of Work, it has become imperative that organizations keep a focus on the employee pulse in real-time to identify and act on the 'listening' gaps that hamper decision-making, productivity, and performance. With her life-cycle milestones, and empathetic conversations, Amber assisted 100+ organizations to provide real-time assessment of engagement fluctuations and COVID-19 related VUCA concerns. Our Amber dashboard users even created created COVID-19 related custom text buckets to track and respond faster, and understand employee sentiment on the fly.
Our Crisis Management beta with ~40 organizations was an immediate outcome of the first listening gap we identified: Crisis affects each & every employee lifecycle and Amber needed to reach out to the whole organization to understand the flux in the workforce. My team and I created extensive templates that covered initial disruption with the pandemic, status-quo hygiene checks, and contextual Amber conversations as work returned to a new normal differently with our different customers.
With vaccines in sight, we see this crisis coming to an end soon and like all crises, it killed some new measures and fast-tracked some (a la fight or flight response). inFeedo killed its plans to set-up multiple offices and became truly remote. We now have an emergency team for 24x7 support and mental wellbeing sessions every Friday. So many of our customers have undergone a similar journey. Amber did too. 😀
And thus, we built Amber's Custom Check-Ins...



1. Ensures Your Employees are Always Heard by You
From the myriad changes we noted in our earlier Crisis Module, we built Custom Check-ins with Amber. With 130,000+ conversations Amber had in a couple of months, we discovered 8 key issues adversely impacting employee experience across the world as work returns to normalcy.
I am a big Josh Bersin1 fan and I couldn't have said this better myself to explain why we did what we did, "This year, driven by the Pandemic, work at home, and dozens of new programs for wellbeing, diversity, family support, and communications about the Pandemic, companies have gotten much better at delivering a meaningful, productive, employee experience. And this means the context has changed. When the first concepts of EX were born, we talked about building employee journeys, using design thinking to study and empathize with employees, and identifying the "moments that matter" in an employee's ongoing life at work. Now, EX covers everything." Want to know more about how you can harness Custom Check-ins? Sign up for your spot on the waiting list here.
2. Empowers You to Use Employee Voice and Achieve Feedback Maturity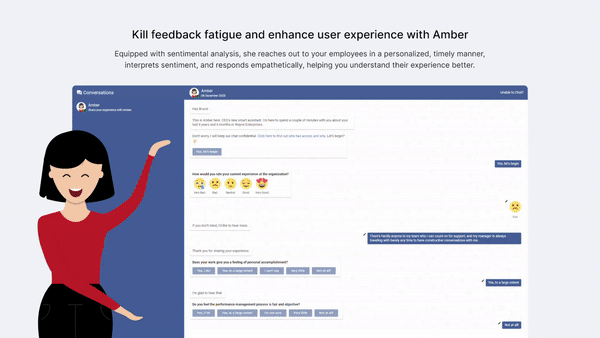 Custom check-ins with Amber provides clear signal to action for HR, empowering them to control and drive conversations as they want across the organization. She comes with her own set of People Science curated conversational templates to help leaders analyze employee pulse at any point in time or in customized frequencies.
Kills feedback fatigue and enhances user experience: Equipped with sentiment analysis, Amber's check-ins are personalized, timely, empathetic and powered by sentiment analysis
DIY check-ins with easy steps: Provides full autonomy with intuitive steps for leaders to create their own check ins
Centralizes employee feedback with rich actionable insights: Allows HR to initiate ad-hoc or frequency-based check-ins based on employee or org needs
Comes with People Science consult and support: For HR to consult and ask the right questions to their employees to get the right results
But most importantly, Amber's Custom Check-ins helps you use your employees' voice to improve People Practices and the overall business scorecard. This helps increase trust and confidence across the workforce, reduces turnover intent, and boosts employee experience and productivity
3. Ushers in the Next Phase of Employee-first Culture
Finding the sweet-spot between custom check-ins and life cycle interactions is an individual org. journey but as a rule of thumb, if your feedback system is unstructured and you want an employee first approach - life cycle interactions that closely follow employee journey should be a sound choice. Moreover, lifecycle conversations with Amber are based on our EX framework that captures engagement levels and highlights employees who are unhappy, disengaged, or about to leave. Most in-house engagement interactions are post-facto and not necessarily designed to capture engagement but rather outcomes of engagement effort and other key dimensions.
If your existing feedback system is robust and you like taking charge of the employee feedback design, Amber is an exceptional voice channel that can improve your response rate, feedback quality and data insights with her strong analytics and NLP engine. With custom check-ins, we bring in the best of HR Tech and our EX expertise. Sign up for your spot on the Custom Check-In list here.