The COVID-19 outbreak got many employers to notice the impact employee wellbeing has on their performance, and consequently on the business results. Employees are distressed and worried, and employers had to find ways to accommodate the rising needs for empathy towards their employees-- overnight. Here's the Ultimate Crisis Handbook for HRs by top HRs.
Johnson & Johnson has claimed that their wellness programs saved them $250 million on healthcare costs over the last decade. The ROI was 2.71$ for every dollar spent on employee wellbeing. Not bad, eh? Some rare leaders in Southeast Asia have also been advocating the need for higher empathy, 1:1 support, and the need for tools like Amber that secure employee well-being for the past few years. These leaders are ahead of their peers.
For Aziph Mustapha, Head of Culture Transformation & Employee Engagement at Celcom Axiata Berhad, empathy is the name of the game. In our conversation with him on the future of employee engagement, reflections from the past year, the future of HR tech, and more, almost all centered on employee first thinking in a time of crisis.
As a two time TEDx speaker and as a veteran of both the corporate and startup worlds Aziph is one of the most visible leaders in the Southeast Asian HR community, so we were particularly excited to pick his brain on what the current state of affairs is in the industry.
Four main points came to the surface as the crucial factors for transformation moving forward:
The importance of connectivity in a distributed workforce
Empathetic employee support programs during a turbulent period
Inspiring an aggressive growth mindset across your employee base
Having a strong grounding vision and sense of purpose to transform and evolve around
Let's dive deeper.
1. Staying Connected Always Even in Times of Disruption
How to Communicate with Your Employees More Effectively while Working Remotely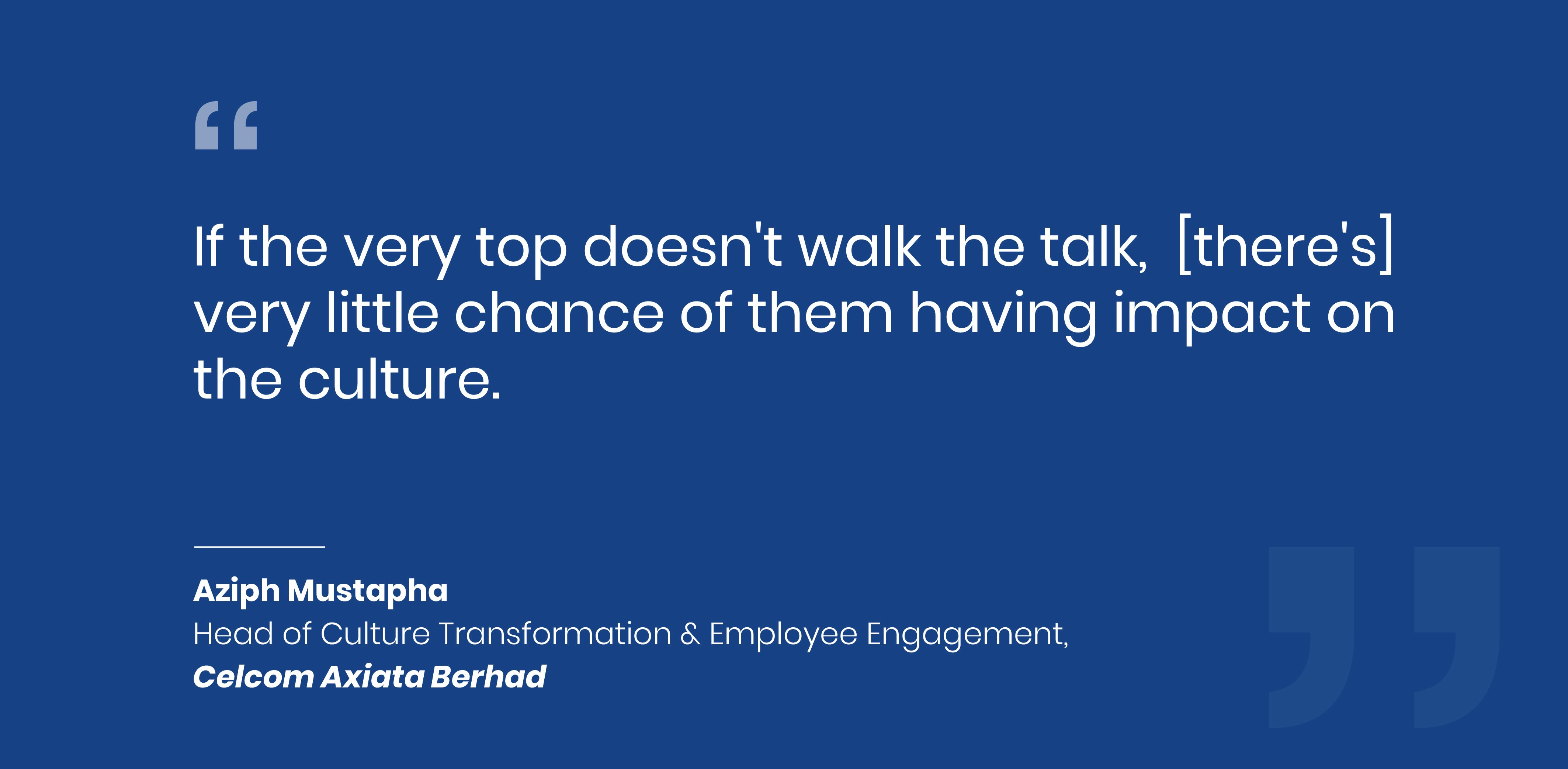 Aziph got a head start on this effort by building a strong rapport with the majority of his workforce pre-COVID. As he told us he "got on a plane and didn't come home for a while because [he]went to every little town that we were in, and met almost everyone."
This remarkably effort-intensive yet thoughtful step shows how leaders well prepared and already acquainted with their workforce at large are in a position to leverage their connections to keep employees engaged remotely. And, as Aziph stressed, this reachout process has to be a top down effort that is put into consistent practice.
What does this entail?
Frequent communication between C-Suite level roles and lower level employees within an organization. "If the very top doesn't walk the talk," Aziph told us there was, "very little chance of them having impact on the culture," as employees inherently won't have faith in leaders who don't come out of their offices.
Building a rapport with employees and humanizing yourself as a leader is an important part of driving up productivity and engagement as you're showing a sense of accountability. Being able to stand alongside your employees and break traditional hierarchies helps imbue them with a sense of ownership that in turn facilitates better performance and increased buy in.
For Aziph and his team that meant "being overly communicative, making sure that we really engaged with our people on a very regular basis, and giving clear instructions to leaders at all levels of the organization to do the same with their teams." Being available means building a culture of accountability and trust, something all good companies should aspire to.
2. Putting Employees First
How to Build Empathy, Inspire Well-being and Provide Resources During a Crisis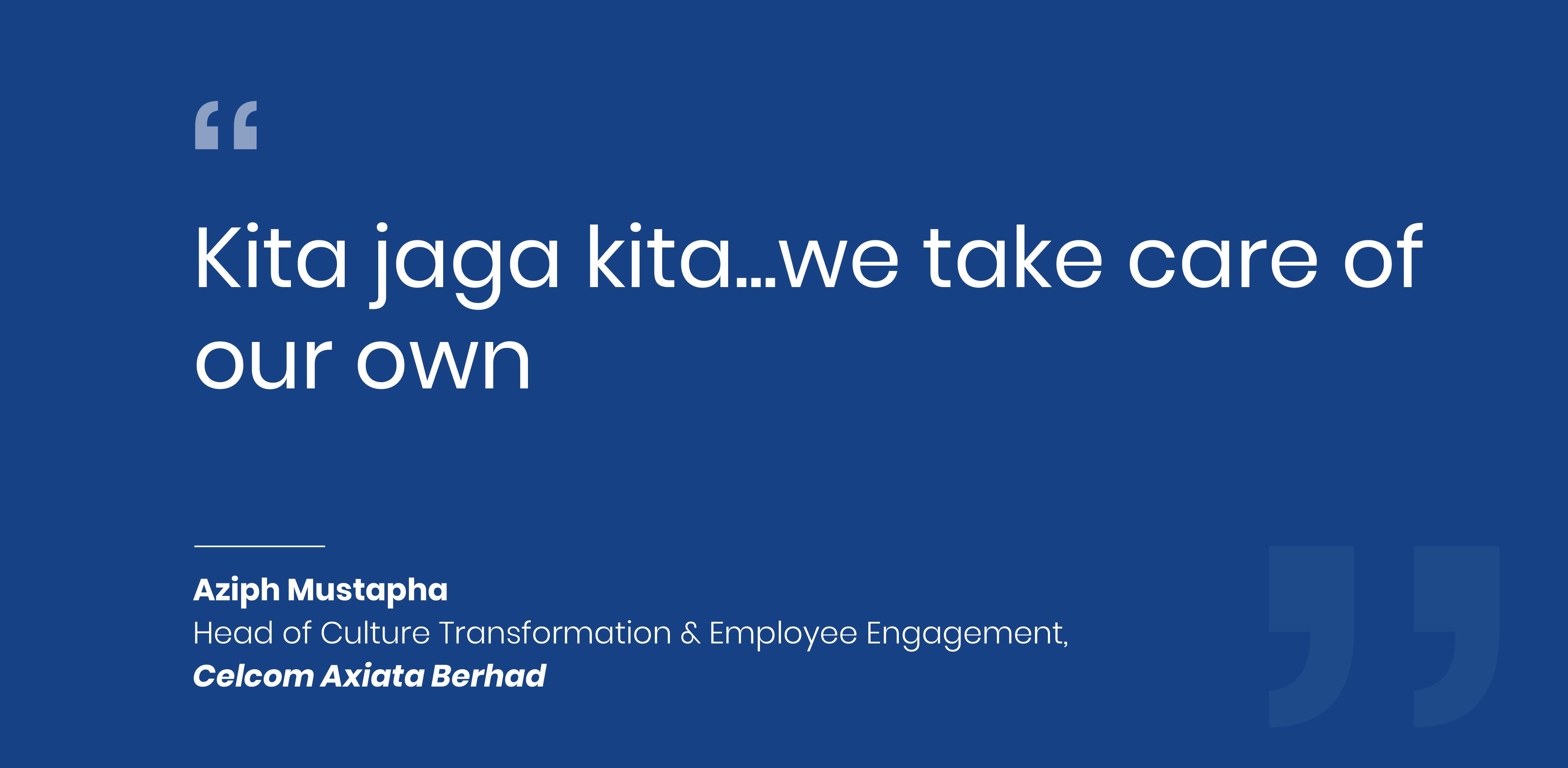 Today, empathy at the workplace entails providing constant support and mental health resources to help people discuss stressors in their lives, extending benefits to make employees' environments work from home friendly, hosting engaging online events, covering medical bills, and more.
Aziph and his team at Celcom Axiata Berhad have committed to providing the services and support their employees' have needed during the pandemic. For them, emodying the slogan "kita jaga kita" which translates to "we take care of our own" has driven their efforts to show their people they truly care.
What's emerged from the spirit of #

kitajagakita'

?
The HR team went ahead and implemented "an assistance program and a holistic wellness program that incorporated physical health services, mental health services, and dieticians" in order to ensure that all members of the company had the resources they needed to both stay physically active and in shape as well as ensuring that they had the help they needed to deal with any issues of mental wellness. By breaking the stigma around mental health Aziph and his team, and all good companies, are making sure their employees feel good, and bring their best efforts to the table every day.
Further, employee recognition programs help motivate employees and keep them focused on achievable but difficult goals. At Celcom, that's manifested itself in a system where members of "agile teams" are able to call out who is performing well and highlight their work with a "Most Valuable Player" award. By making the recognition program team centric it boosts internal accountability and keeps teams aligned on a central goal. Encouraging your employees to recognize the contributions of their colleagues is an important way to build a focus on the areas of work in which key business levers are targeted.
3. Adopting and Inspiring a Startup Mindset:
How to Train your Employees to Focus on Growth and Innovation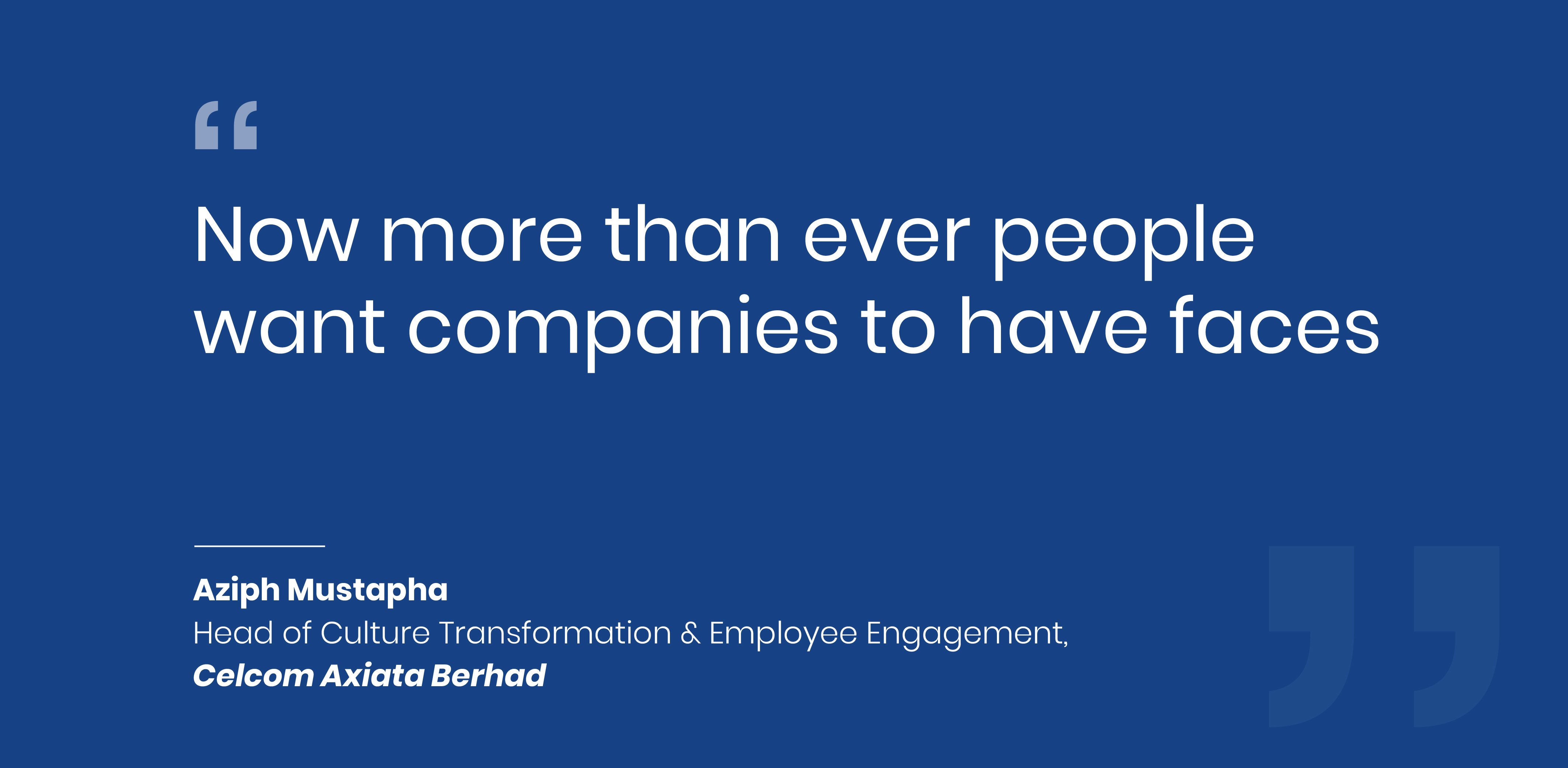 Transforming a company that's large and established is not an easy task as you have to contend with "a lot of inertia." When things are working there's less of a desire to strive and innovate, because complacency can have a tendency to sink in.
It's crucial to continue looking for new, entrepreneurial ways to improve all aspects of your work culture, as Aziph and his team have. Even though they were "coming off 31 quarters of continuous growth," there was still room for growth and development. Aziph, with his experience working across start up environments and serving as the CEO for Yayasan Inovasi Malaysia (the Malaysian Innovation Foundation), sought to bring continuous innovation and transformation to Celcom rather than resting on what had worked.
Going from the mentality of "whatever we did was gold" to "everybody needs to be really on the ball now" keeps everyone hungry and motivated to continue to seek excellence in their own performance. This means no process can go unexamined. Whether it's recruiting, onboarding, exits, leave policies, or anything else the best leaders examine all facets of their business plan to ensure key levers are being moved. There's no such thing as a decision in isolation, and even the smallest actions and roles need to be viewed in a larger context. That's why Aziph and his team, and people-first leaders worldwide preach understanding of overarching business goals, as well as turning Celcom into "a 30 year old company with a startup culture."
How can personal branding create a more agile and motivated workforce?
Aziph, who hosts a variety of webinars and podcasts on his LinkedIn, highlighted that building employees' online presences to make them proud brand reps is a way to attract elite talent. While Celcom is a well regarded brand, telecoms in Malaysia is a competitive industry. When it comes to recruiting top tier talent it's about putting the employees that truly represent the company on a podium. "Now more than ever people want companies to have faces," and as Aziph stressed this often taken a concerted effort to help top performing employees curate the kind of online presences that entice prospective employees to join up. Having brand champions with strong social media presence is a way to imbue a startup mentality into your firm and have a leg up in the multinational war for talent in a globalizing economy.
4. Establishing a Strong Cultural Compass
How to Innovate and Imbibe Core Work Ethics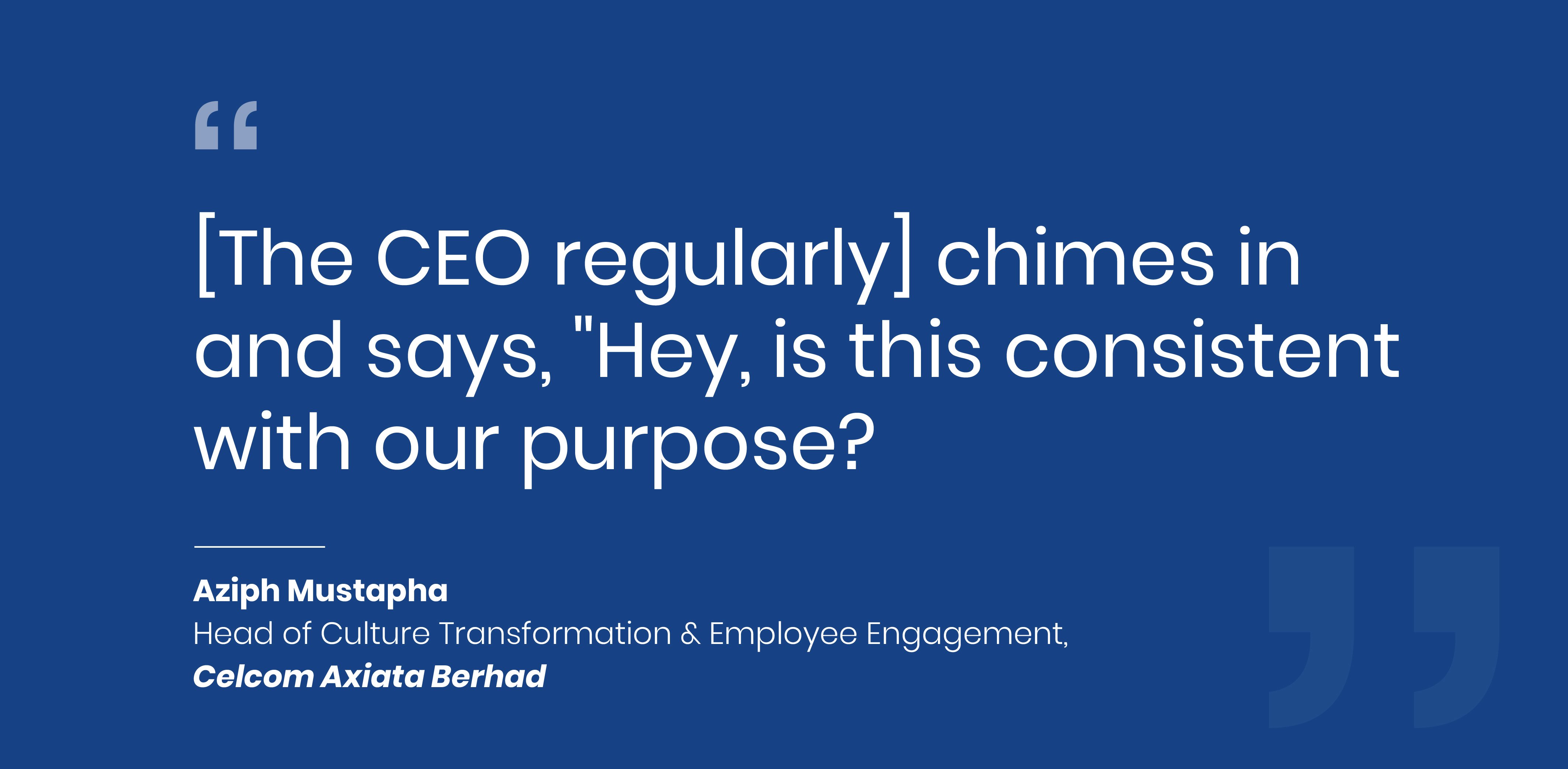 All the efforts Aziph and any similar business leader in his situation make would fall flat on their face if not for the North Star around which all decisions must be vetted.
For Celcom, their Business Continuity Management group, chaired by the CEO and made up of various C-Suite executives, views every substantial decision against their strong value compass. At Celcom, empathy, best practices thinking, and the spirit of "kita jaga kita" are taken into consideration at any crucial juncture. At every meeting, the leadership at the team circles back to the fundamental question of what Celcom stands for, and in turn should do. The CEO regularly "kind of chimes in and says, 'Hey, is this consistent with our purpose?'" At inFeedo, we share a similar six point value system that helps shape all our decisions.
Companies that want to make an impact rally around the core beliefs and ideals that make them who they are, and are always quick to turn to ethical thinking even when faced with "decisions that seem unprofitable in the short term."
How do you turnaround unprofitable scenarios for your employees?
Aziph shared an example of a recent mandate by the Malaysian government that required all telecom providers to provide one free GB of data a day to all customers in order to facilitate effective work from home.Other companies made their customers apply for the free GB of data through various channels, as if it was just another sale.
Celcom instead came out to their customers and said "we're giving you your free GB, you don't need to do anything to receive it, and we will use the free one GB first before use your other allocation." Why did they do that? Because they understood that their clients, struggling with the weight of the pandemic, needed that extra data "to work from home, to go to school, to make sure your kids can go to school from home." They way they showed that they were empathetic towards their customers' issues has resulted in "third party measurements of how the public perceives [Celcom] has been on an uptick and the other competitors have been on a downtrend." It's in times of crisis when businesses stick to their North Star, an ethical compass, that they can make inspired, socially responsible moves that reap dividends in the long run.
5. Building Better Leaders to Build Better Companies
It was a pleasure talking to Aziph and understand the nuts and bolts of engagement and transformation in current times. The employees of Celcom are lucky to have an advocate in him that passionately cares about their wellbeing, and sticks to a fundamental vision while helping to scale the company. While ethics and profitability have often been thought to be antithetical, new wave leaders like Aziph are bucking the trend by showing that truly making your company employee-first is the best way to turn a good organization into a great one. Empowering and harnessing the creativity and knowledge of your workforce is the best way to align on shared goals, find and foster a sense of purpose, and increase buy-in, with empathetic leadership to guide the way. It all boils down to engagement and empowerment, something Aziph and the top leadership at Celcom have displayed clearly throughout the pandemic.
The team at inFeedo is inspired everyday by and grateful for leaders like Aziph who truly embody what it means to be employee-first today. Did we tell you that Celcom is now a proud customer? Get your free demo today.
And before you go, are you struggling to get employee engagement right? Here are 30+ hacks from around the world.