The key takeaway from the recent editions of inFeedo's virtual group discussion was how HR KPIs and KRAs are being completely restructured to fit the needs and expectations of remote work, the workforce, and organization. Read till the end to find out how HR becomes the new workforce enthusiast.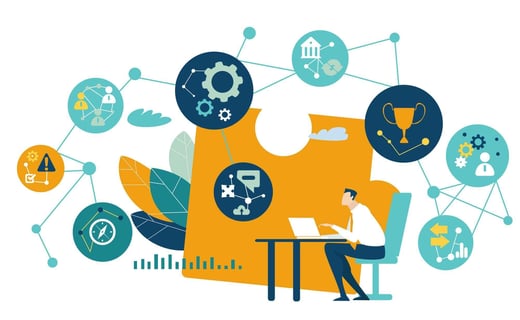 Each week, we are joined by global HR leaders to brainstorm, share learnings, and collect insights on how organizations can come out on top of this crisis. You can also be a part of one of our upcoming virtual group discussions. Check out our upcoming events here!
Here's what we've learnt from our most recent sessions:
1. Keep Your Team in the Loop about All Business Updates to Build Trust
Our attendees focused on the value of technology for meaningful communication during the pandemic while customizing their engagement initiatives for new workforce needs. This will help build trust within the team and across hierarchies while they work remotely. From what we have seen, managers whose team win during the remote work, do things differently.
There's no such thing as over-communication in this time. Every update, change within work, the organization and respective teams should be communicated to employees from huge decisions to minor ones.
2.
Keep Your Workforce Intellectually Stimulated and Productive through Upskilling
HR leaders confirm that tech tools are no longer luxuries but necessary for survival for remote work to succeed. A number of SaaS companies are offering easy trials now, including us, so you should be leveraging every single tool at your disposal.

Creating goals and upskilling your employees keeps them intellectually stimulated, and fights off depression and anxiety effectively. A working employee is happier and more engaged than one without clearly defined objectives.
While certain AI tools like ours can help you understand where your focus area should be for an employee's learning and development, others can help you open dialogue with the workforce seamlessly to understand how you can improve on the and boost productivity at the workplace.
3. Reap Higher Returns by Establishing Healthy Remote Work Routines
Now that we are scattered across the world, managers, captains, leaders play a big role in establishing routines that building trust and discipline and ensures business as usual. That means daily stand-ups, checkins, and feedback sessions.
Create training programs that help managers improve their skillsets and transition them and their team to working remotely with ease.
4. Coach Your Workforce by Transforming HR into Workforce Enthusiasts
From recruiting to crisis management, HR is being pushed to the center of the company's strategy. That requires agile adaptation and a willingness to experiment.
More companies are restructuring KRAs and HR hierarchies to meet the new requirements of the situation. HRBPs will transition from a transactional role to the role of a "coach," using empathy skills to strategically move business forward. This function will always own culture, and in a time of remote work, they need to double down to reinforce and build culture through outreach sessions and company wide initiatives.
These sessions have so far been a treasure trove in terms of learnings and we will ensure the word gets out for every organization to implement and navigate this stressful, changing period together.
We would love to thank the HR leaders who make time to do their bit for their people and business as we cope with COVID-19 together.