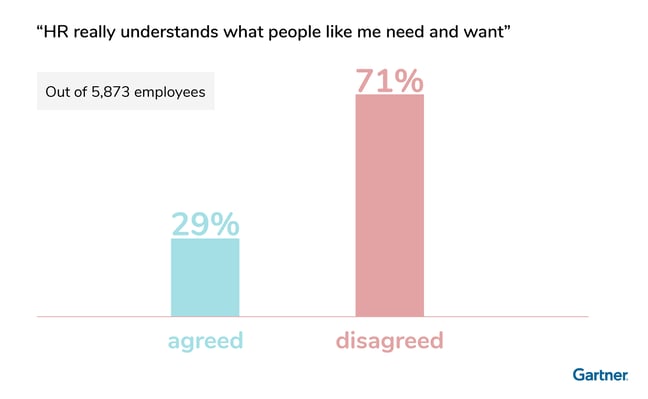 In the modern pursuit of a positive workplace culture one topic has risen above the rest: employee experience. As the primary driver of an employee-first culture, companies have begun building out employee experience strategies and frameworks, as well as creating employee experience surveys and employee experience platforms.
This is reflected in the numbers alone: 92% of HRs across organizations1 worldwide see employee experience as even more critical to the business in 2021 than ever before, particularly in the wake of the COVID-19 pandemic. However, an alarming majority of 71% of employees surveyed by Gartner2 stated they felt HR didn't prioritize employee experience!
So, what's making 71% of employees feel disconnected with HR?
Organizations that still consider surveys as the main method to measure and build employee engagement strategies face limitations in the form of:
Bias in reporting

Lack of frequency of inputs

Inability to derive actionable insights
As we mentioned last year, feedback data gleaned from surveys does not provide a real-time, holistic view of your larger employee sentiment on employee experience, and the moments that matter to them. They merely provide a static, over averaged, and non-actionable score that lacks nuance, employee based drill down opportunities, and specific sentiments. Given how diverse and multi-generational the workforce has become as a result of international hiring, diversity programs, and more, the typical employee life cycle model must reinvent itself to factor in and measure different nuances of moments that matter to your employees to understand how they experience the organization. These moments should be seen as absolute employee expectations that impact perception, value, productivity, and finally, your bottom line. Mercer's 2019 talent trends study3 confirms: Thriving employees are nearly 4 times more likely to work for an organization that understands their unique skills and interests and 3 times more likely to work for an organization that enables quick decision making.
People analytics expert David Green also observes that a stronger EX strategy comprises more sophisticated, data-driven, and continuous moments that matter. In fact, companies that invest in strong EX strategies outperform in the market (see Global High-Performance, Companies in the graph below).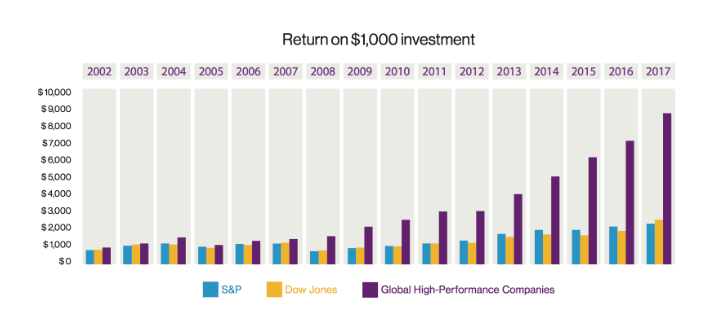 16% of HR leaders are already experimenting with a 'moments that matter' approach to understand their employees better. 56% of HR leaders want to identify these key moments for their organization. However, starting an exercise like this without direction is a near impossible pursuit. So, what are the employee experiences you can't afford to neglect when you build out your moments that matter strategy?
We breakdown 4 key employee experiences to reevalute and update your moments that matter strategy:
1.

The Remote Work EX: Setting up An Employee Experience Framework
Consider the many nuances of an employee attempting to set up a productive work from home environment. Whether it's the issue of balancing home life and work life, technical difficulties, coping with isolation or more there are a plethora of issues people face while working from home. Let's look at Sam's case.
Sam, on her first day working from home, has been struggling with her WiFi connection, and isn't able to appear on video calls, distancing herself from her peers. Further, she's finding it difficult to work the standardized hours as having her family in the home can cause irregularities in her work day.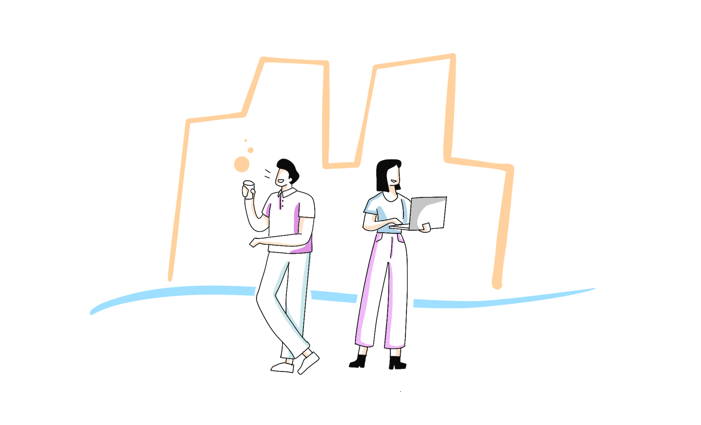 How can you make Sam's moment better in 2020?
Be more on the ground using tech to connect and bridge the gap between HR and employees to gain real-time data on ground issues that are usually easy fixes.

Progressive organizations are using AI and people analytics to capture feedback in a timely, contextual manner frequently across touchpoints to capture organisation pulse and employee sentiment. Today, 50% of company leaders are planning to co-create experiences that capture diverse employee needs from their workplace.4

In Sam's case her company, through people analytics, could recognize these issues and see if they're aligning with difficulties faced by other employees. In turn, the organization could set up an employee experience framework that allows flexibility in working hours, choosing instead to focus on deliverables than pure hours logged. They could also recognize that technological difficulties are plaguing many employees, and work with them to upgrade people's home technical infrastructure.
Real-time feedback is the only way to make changes like this on the fly. An employee engagement survey just won't cut it. Decisive HR departments need tools that allow them to act with agility and sensitivity to create positive workplace cultures.
2.

The People EX: Where Employee Engagement Surveys Fall Flat
Drastic changes in an employee's work life need prompt, real time feedback. Consider how much an employee has to adapt when there is a change in their immediate work ecosystem, be it their role, project, team, manager, or more. A survey that happens once a year may not be able to provide feedback on employee experience moments that matter as they arise.
Tim has spent over 3 years at your organization. He recently had to switch teams and manager. It's been 2 weeks since this change; however, he still feels left out of important meetings, social after-work gatherings, and 1:1s with his new manager. The experience has been starkly different from what he was used to and unfortunately, Tim pretty much feels lost at this point. Further, the yearly survey isn't for another 8 months, so Tim has no way to safely express his concerns without fear of repercussions.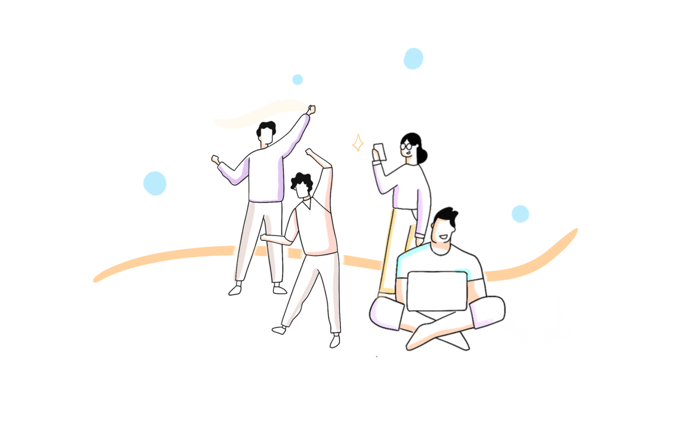 How can you make Tim's moment better in 2020? Prioritize and initiate regular conversations with your employees who undergo frequent changes across teams, managers, locations. Using predictive analytics, you can uncover insights from real-time data and create effective, meaningful action plans focussed on employee well-being to manage change better.
While change fatigue is growing concern across nations, 92% of employees are open to data collection as long as it benefits them5. This data can help HR understand key pain points that attribute to fatigue and steadily introduce change keeps the workforce happy, motivated, and engaged. Read more on how you can enable the same.

For Tim, having an organizational ally like Amber would give him a safe space to voice his concerns through Amber's robust privacy and bifurcation of visibility settings. And her Moments that Matter module specifically reaches out when major changes occur in an employee lifecycle, meaning Tim would be proactively engaged, rather than having to wait for 8 months to voice his concerns. If the concerns were left unaddressed for even two months Tim may have already left the organization for one that prioritized developing an employee-first culture.

3.

The Work EX: The Need for an Employee Experience Platform
Consider the many internal factors, such as promotions, appraisals, learning and development initiatives, mentoring and guidance, that contribute to an employee's work performance. Without a designated employee experience platform, many of these factors may slip through the cracks. Let's see what issues Riya is facing.
Riya has completed 2 years at your organization. She expects to be promoted to a senior role since she has been meeting her targets consistently and has been appreciated by her customers and peers. When it comes to her performance review, her manager rates her a score she's not quite happy with. She feels immediate anger and thinks of alternative workplaces that may appreciate her performance more.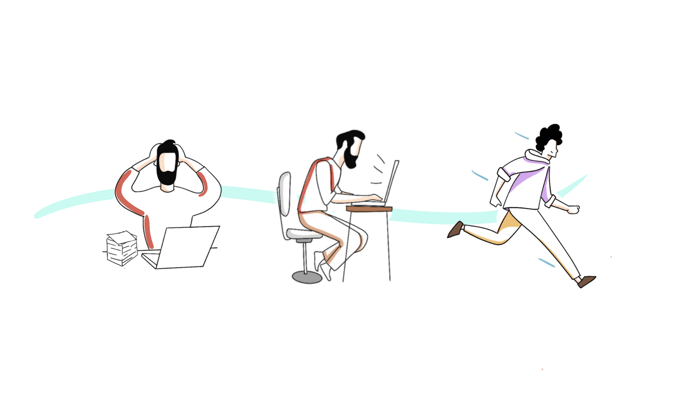 How can you make Riya's moment better in 2020? Create a culture that promotes leaders and employees to have open, honest discussions. Set goals that give employees a sense of meaning with clear expectations mapped to each.
A study cited in Forbes6 confirms the same that employees who are part of their goal-setting journey with their managers are 3.6 times more likely to be engaged than those who are not.
For Riya, an inability to voice her concerns in a healthy, productive way will drive down her productivity levels, lower her net promoter score, and perhaps even cause her to leave the organization. Without an employee experience platform that allows HRBPs to see how Riya is feeling in real time the organization stands at a risk of losing a key member of the team who could thrive if she was listened to. Actionable insights are the only way to lower attrition rates, and any strong HR team knows this.

4.

The Personal EX

:

Making an Employee Experience Strategy Work
Consider the many external factors that contribute to an employee's every day experience, such as family bereavements, marriage/divorce, sudden illnesses. Any of these catastrophic events will have an immense toll on employee mental health, and in turn their performance. Let's look at Andrew's case.
Andrew, your employee of just a year, found out that his grandmother is in the hospital. He also has a critical deadline to meet and his manager is in an important customer meeting. He reaches out to his HRBP for her and has been asked to wait till his manager is back. At this moment, Andrew is torn, unable to focus at work, and feels helpless overall.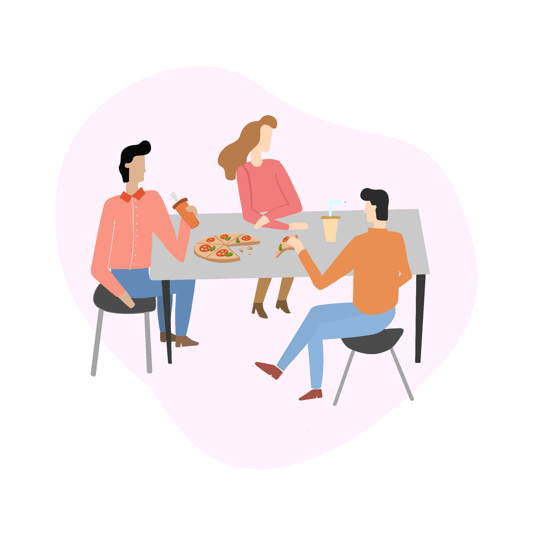 How can you make Andrew's moment better in 2020? Acknowledge these moments as they profoundly impact an employee's decision to stay or leave the organization. While designing your EX strategy, you must also capture the experiences out of an organization's control and train HR to handle as they occur.
Employees who feel empowered, respected and like they're making a difference are more likely to stay, and those who don't have only a 35% chance of staying on.7
For Andrew, having a strong employee experience strategy that recognizes that life has severe ups and downs would allow him to more decisively take the time off he needs. An employee-first culture would empower him to take action and prioritize his family life without fear of repercussions. Your employees are people first; make sure you're nurturing and respecting them as humans rather than resources.
Building an Employee-First Culture with a Focus on Employee Experience
Now more than ever we need employee-first cultures. With global instability, tumultuous financial markets, and lingering health concerns ensuring that every employee has a voice and feels safe at work is crucial. Paying it forward now by protecting your employees will reap rewards in the long run by lowering attrition rates, ensuring higher employee productivity, protecting mental health, and creating internal brand promoters. None of this is possible without measuring moments that matter in the employee experience.
So what can you do? First, you can begin to train your managers on empathy, listening skills, and leadership to make sure employees feel safe discussing any and everything with their managers. Mental health is a key component of the employee experience, and without a focus on keeping employees motivated and emotionally safe it's impossible to have a truly positive workplace culture.
Second, look into acquiring an employee engagement platform that helps you collect feedback in real time so you can derive actionable insights to help fix issues that arise within the workplace. Yearly surveys just don't cut it for the best HR teams, they need actionable, real time feedback from smart tools that help them do their jobs better. In turn, limiting the amount of time HRBPs take to do reachout opens up a ton of bandwidth for them to start driving key organizational levers and aligning HR with central business tenets. HR is a crucial strategic organizational partner, but without the right tools HR departments will never be able to contribute to their full potential.
And we couldn't have summarized it better than Robert Bolton, Head of People and Change CoE at KPMG, in the recent Future of HR report: "Those that 'get it' are acting decisively, viewing HR as a new value driver and turning to data, predictive insights and AI. The rest are either limiting themselves to changes that show some progress, perhaps through data and analytics initiatives, or simply clinging to a static approach that's perilous."8
Sign up for your Amber demo and start acting decisively TODAY.