"40% of an HRBPs time is spent collecting and analysing feedback, while only 15% of that is spent on engagement. It should be vice versa, right?" asks Geetha Thiagarajan, Head of HR at Finastra.
Geetha Thiagarajan, prominent Head of HR, shares about the all-too familiar obstacles HRBPs face when it comes to balancing employee engagement with tracking, collecting, and anlayzing the data related to it.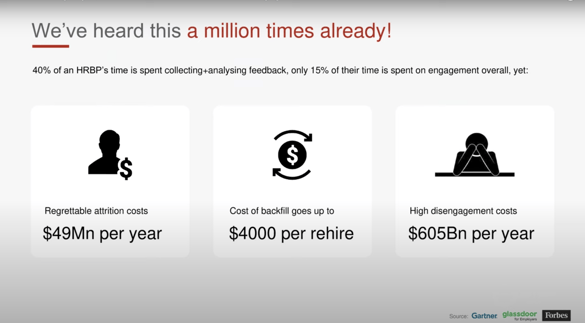 From SocGen to Altimetrik, Geetha wanted to streamlining the HR fucntion and its processes to effectively measure engagement and employee sentiment and become a strategic force in the organization. And for this, she used an employee engagement HR chatbot, Amber.
Let's see how she used Amber to tackle these familiar problem statements.
1. Regrettable Attrition Cost $49 Million a Year.
As Geetha said, company wide surveys used to be impersonal and un-engaging with no nuance to reflect individual concerns and questions. But Amber, in her words, is bespoke. By tailoring questions with an empathetic AI chatbot Geetha has been able to flip the script on the data and engagement imbalance, with more time than ever before spent on engagement. Amber helped her to cut attrition by half.
2. Cost of Backfill can be as High as $4000 per Employee.
Fortunately, Geetha has used Amber to proactively track employees with downward morale trends and Amber's used our People to Meet function to highlight and engage with potential risks to leave. The streamlined process has allowed her to spend extra time working with and empathetically reaching out to unhappy employees. Cutting attrition rate by half saved her firms tens of thousands of dollars.
3. High Disengagement Costs You $605 Billion per Year.
Before adopting Amber, getting comprehensive and relevant data was near impossible. With one of her earliest forms having approximate 2000 employees per HRBP the opportunity to engage this vast number of employees was near impossible. Coupled with irrelevant, non-tailored tailored questions the data that the team spent hours amalgamating proved next to useless. So Geetha decided to team up with Amber. At her most recent firm, Amber's insightful, bespoke questions enabled Geetha to implement effective and thoughtful engagement programs that resulted in a 13% uptick in organization wide mood score.
We're so happy to have an Amber Evangelist and prominent Head of HR like Geetha in our corner. We've been able to improve our HR chatbot based off her feedback, and she's used Amber to revolutionize the way she tracked and engaged employees across a variety of prominent organizations. We're looking forward to taking our next step in the journey with Geetha to make Amber a better product and keep helping her reinvent the HR industry with our AI chatbot.
"In the atmosphere of today's world with the diverse workforce that we have, a chatbot is the best thing that you can pick up," concludes Geetha, Head of HR at Finastra.