These first two weeks of August are dates that we circle on our calendars over here at inFeedo. First and foremost, we celebrate Amber's birthday! She was built through a series of sprints run by Tanmaya, Varun, and the early team based off learnings from the book Sprint, by Jake Knapp during the early weeks of August 2016, and while the product they built then may look very little like what Amber looks like today the first principles thinking at her core haven't changed. So, happy birthday Amber! She's the smartest 4 year old we know.
Another reason these first two weeks of August were something we looked forward to for months in advance was the People Matters TechHR, one of the leading series of HR events for industry professionals located all over APAC. This series of events, organized by our good friend and People Matters CEO Ester Martinez, brings CHROs, Senior HRBPs, HR tech CEOs, and more together for a series of insightful lectures and roundtable discussions, along with giving attendees the opportunity to chat with their peers and develop connections that could reap long term rewards for all involved parties.
We've grown over 26x in ARR between our first visit to TechHR in 2016 to 2019, steadily growing from attendees, to Silver Partners, to Diamond Partners over the years. Let's look at our journey, shall we?
inFeedo's Growth Year over Year through the TechHR Lens: From Humble Beginnings
For us at inFeedo, TechHR holds such a special place in our heart because of how pivotal it has been to our growth and networking throughout the years. As People Matters put it so succinctly in their high quality write up of our journey at TechHR, Tanmaya and the team first showed up "penniless," in where we were set up in a tiny booth in the corner of the exhibition hall. Even though our booth was small our good friend Aditya Kohli, then HR Head at Airtel, still stopped by!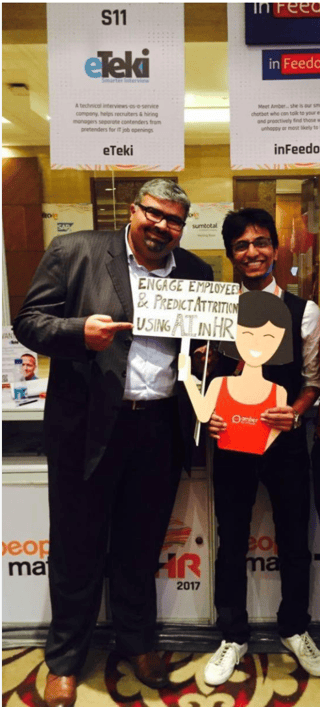 At that point in time, Amber was only a few days old, having been created during a sprint that ran just weeks before. TechHR gave us the opportunity to speak with over 250 CHROs, conversations that all helped our team understand exactly what pain points a product like Amber could help solve to make positive workplace cultures the norm rather than the exception. One such example was a discussion he had with the ex-CEO of Great Place to Work, China Gorman. As Tanmaya said," From my conversation with her, it seemed that in the last 10 years, employee engagement may have felt good but had it really made any tangible, measurable impact?" This conversation is one of the interactions that really galvanized our desire to make an impact in the HR Tech sphere.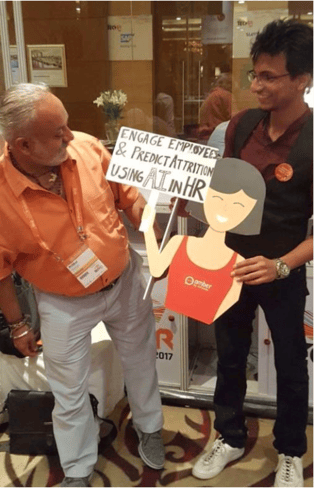 inFeedo's Breakthrough Year: 2018
2018 got off to a great start when we got a kickass booth!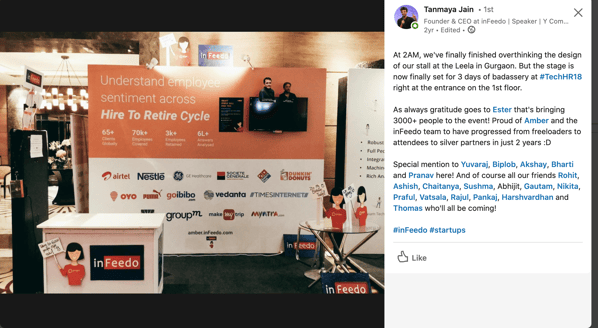 Amber was the talk of the TechHR 2018 conference with CHROs and HR Heads from firms like Airtel, GO-MMT, Dunkin/Dominos, Accenture, and more highlighting her immense capabilities and how using Amber had allowed them to revamp their strategies and approach to employee engagement.
We also can't forget how much we learned from Biplob Banerjee, then CHRO at Dunkin/Dominoes, as he stoped by to chat growth hacks with TJ and celebrate Amber's birthday!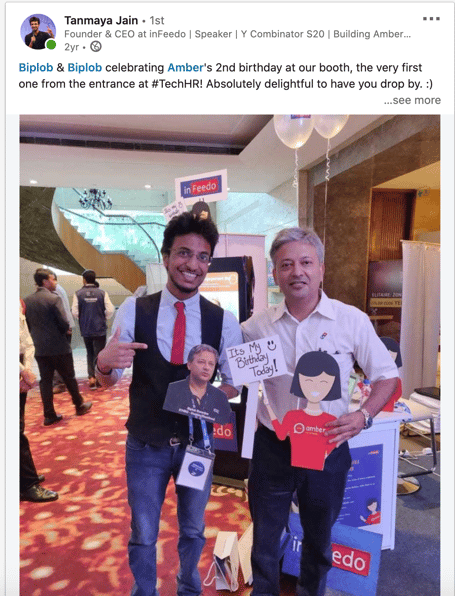 Also loved our visit from Yuvaraj Srivastava, CHRO at GO-MMT who used Amber to help eloquently merge Ibibo and MakeMyTrip together in 2016.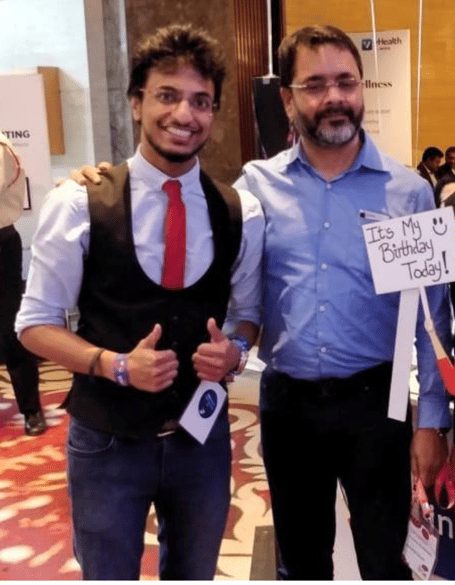 2019: Diamond Partners, and Speaking on the Main Stage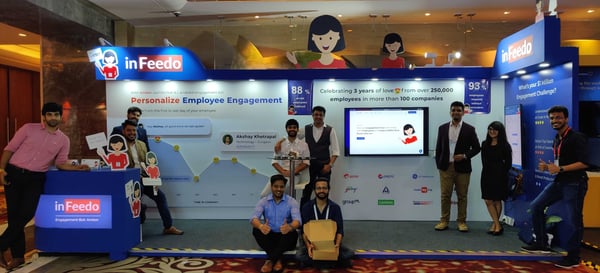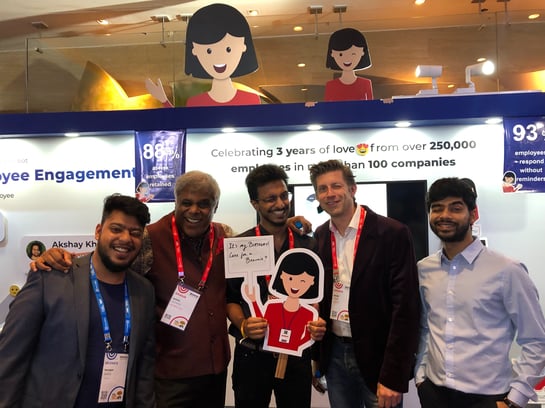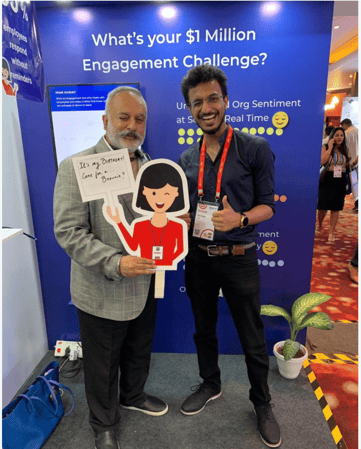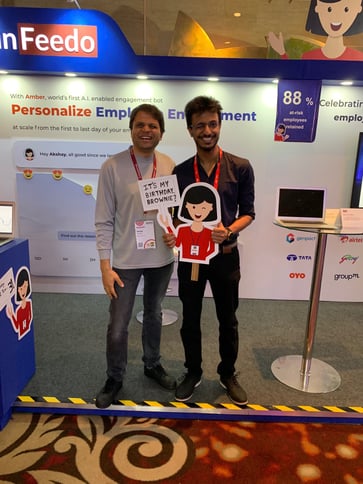 Tanmaya was selected as a featured speaker at TechHR 2019, joining preeminent leaders in the HR industry including David Green, Leena Nair, Josh Bersin, and more. Let's listen in to what he had to say here:
In 2019 we welcomed Peyush Bansal, co-founder of Lenskart and recent participant in our Pre-Series A round of fundraising alongside Y Combinator and Manisha Aggarwal, CHRO at Puma and Amber adopter.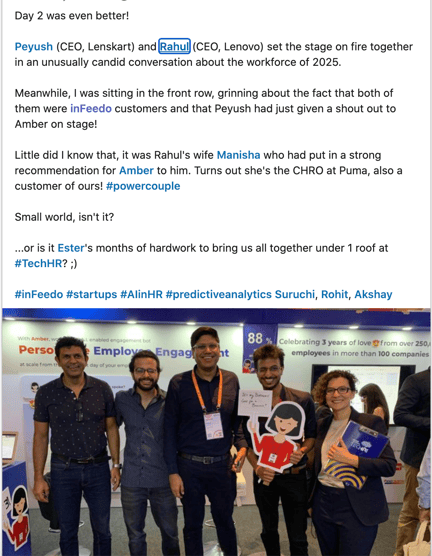 Missing TechHR, and Looking to the Future
While we are incredibly saddened about the fact that TechHR20 just can't be the same experience it was in years past in the current global climate, we felt remiss not looking back on all the wonderful conversations we've had, industry defining individuals we've interacted with, friends we've made, customers we've acquired, and opportunities to hear from the best and the brightest in the HR industry over the last 4 years at People Matters TechHR. Here's hoping that next year we'll all be back under the same roof again!