For Mark Heap, CEO, MediaCom Asia Pacific and Sonia Fernandes, CHRO, the issue of solving low employee engagement was a crucial part of creating a people-first culture. Lack of a business partnering team in 12 of 15 APAC countries and over 2000 employees meant that individualized reach outs were impossible, and the annual surveys Mark, Sonia and their team were running were yielding low response rates and not providing actionable insights. This lack of insights prevented the organization from living up to the "People First, Better Results" philosophy that they had strived to implement in real time.
So what did Mark and Sonia do? They implemented Amber.
Watch the full video below.
Building an Employee First Culture through AI and Analytics
Sonia's primary problem statement was "how do we sync our feedback system with our philosophy on a real time basis?" In order to truly be "People First, Better Results" Sonia and Mark knew they needed actionable insights on their over 2,000 employees to embody their guiding philosophy. So, what takeaways did Amber derive to help them sync feedback with their cultural values?
1. Holding Leadership Accountable for their Regions
As Amber gave Mark and Sonia more insight into specific regional responses they identified areas where country wise leadership could step up and make an impact. They were able to identify concerns by location to take quick actions and fix any gaps in employee experience.
2. Reaching Out to At-Risk Employees
Through text analysis and her robust driver-element framework, Amber's People to Meet feature identified employees who are at-risk of leaving the organization, as well as highlighted the specifics of what are making them likely to exit. Whether it's their manager, role, location, or more, Mark and Sonia were given insights into specific, fixable target areas that helped them retain 82% of MediaCom APAC's at-risk employees.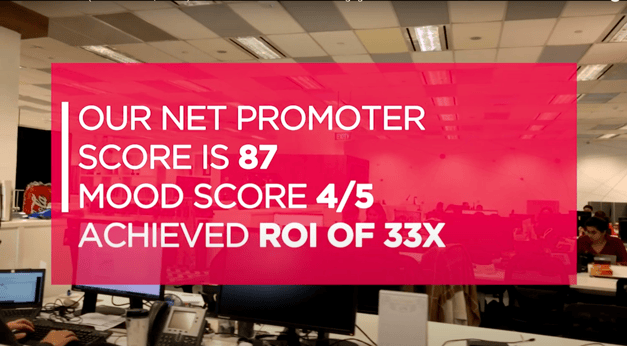 3. Improving and Developing Opportunities for Employee Growth
From Amber's insights, Mark and Sonia highlighted key focus areas for employee growth and development, and went on to improving and customizing initiatives to target those goals. Using best practices thinking, they overhauled MediaCom's Learning and Development plans and career management programs, which are continually objectively measured by employee feedback through Amber to ensure their targets are being achieved.
We're happy to see how Mark, Sonia and their team are using Amber's actionable insights to create and sustain a proactive, employee-first workplace at MediaCom APAC.