Our key takeaway from recent virtual group discussions was that going the extra mile for field workers is the only way to sustain a non-office workforce. So many of our conversations have revolved around companies with an exclusively office bound workforce, but this week's sessions brought new perspectives from a variety of participants in different fields. You don't want to miss these; read to the end!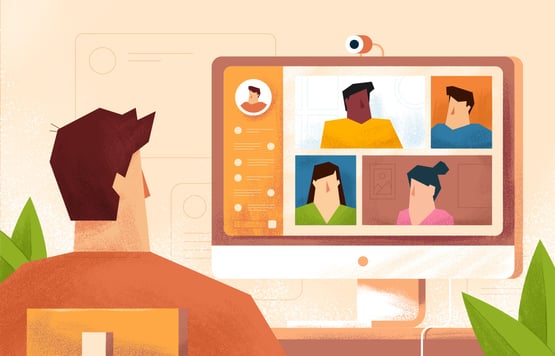 Each week, we are joined by global HR leaders to brainstorm, share learnings, and collect insights on how organizations can come out on top of this crisis. You can also be a part of one of our upcoming virtual group discussions. Check out our upcoming events here!
Here's what we learned from our most recent sessions:
1. Postpone Increments and Cut Pay to Save Jobs
As we saw at inFeedo, employees are more than willing to take pay cuts, or postpone appraisals, to protect the jobs of their coworkers. This empathy and altruism is something we can all aspire to have. If you're picking from pay cuts, postponed increments and job cuts, do the right thing and keep employees on. Not only will it boost morale, but it'll pay dividends in the long run because of company loyalty and brand recognition, not to mention reducing churn costs.
2. Conquer Fear through Small Steps
For the first time ever, leaders are feeling vulnerable. How can you work through that fear? Throw yourself into making the lives of your employees better. Run more engagement programs, reach out to employees one on one, and take other small, decisive actions to regain control. In a chaotic world, taking care of what you can take care of can be hugely helpful for mental health.
3. Embrace Automation to Stay Ahead
Work will now be automated at a level that has never happened before. Leaning into this is a way to get ahead of the curve. Whether it's something small like mastering Excel macros or larger software investments simplifying repetitive tasks you'll save bandwidth and budget. Ensuring peak productivity in a time of cuts is the best way to stay essential and work to help your firm.
4. Protect Your Most Vulnerable Employees
Employees in field industries like healthcare, customer facing banking, and manual labor are naturally forced to confront COVID-19 in a way us WFH employees aren't. These employees should be where you're applying your most resources. Making sure they have strong healthcare coverage, extra pay, workplace safety training, necessary medical supplies including masks and sanitizers, and paid sick leave to protect the employees putting their health on the line for your firm every day. Further, recognizing their contributions will go a long way to boosting morale.
These sessions have so far been a treasure trove in terms of learnings and we will ensure the word gets out for every organization to implement and navigate this stressful, changing period together.
We would love to thank the HR leaders who make time to do their bit for their people and business as we cope with COVID-19 together.
Participate and share your insights and learnings in our Virtual Group Discussions. We would LOVE to hear and learn from you.