Meet Nico Mallillin, employee experience advocate and one of the biggest names in the HR industry in Southeast Asia. Nico is a Certificated Professional Coach and a Senior Certified Professional under the Society of Human Resources Management. He is considered one of the founding members of Society of Human Resources (SHRM) Executive Network, that brings together the HR profession's most experienced leaders to help them meet the strategic and organizational challenges of an increasingly complex business landscape.
At a young age, he had already received multiple recognitions such as Philippines' Most Talented HR Leaders in 2018, as part of the Top 100 Global HR Heroes and Top 100 Global Coaching Leaders during the World HRD Congress in 2019. Recently, he was recognized as one of the Most Talented Coaching Leaders in the Philippines during the 2019 Philippines Best Employer Brand Awards.
We sit down with Nico to understand his upward journey in the HR world till now, his learnings and vision for the future and the power of employee experience in transforming a business. Read on.
1. You've always advocated the power of EX in driving business success. How does this happen?
Advocating the power of employee experience to drive business success starts with the right mindset and asserting the belief that the people, your employees, will always be the most critical asset of your organization. As HR practitioners, this should be our core principle. No amount of financial resources, business acumen and brilliance, experience in running business will be enough if an organization doesn't have the right people thriving in the environment it needs to succeed.
This belief is required to be aligned and consistent across all your stakeholders in the organization, especially at the senior leadership team level. Driving employee experience in the organization is not done alone, nor within the HR team only. It has to be driven and championed by every leader and people manager in the organization.
And in the process of influencing all the key stakeholders on what EX is and its impact, co-design all organization practices, processes, and ways of working in relation to the culture and environment the leaders want to build. Bring them in the process for higher buy-in, stronger involvement, and relentless support. Together with designing, establish metrics that will measure success at the time EX is being established. It might not be mature enough yet to measure ROI in terms of revenue, profit, or other business metrics but you can measure employee engagement, absenteeism, employee referral, etc.
Expand the influence across all employees, involve more and more employees in designing and building EX across all facets in the organization until it becomes a natural part of the organization's ways of working. As the cycle continues, the maturity of employee experience in the organization will continue to evolve and will eventually translate to direct business impact and success.
2. In your opinion, what are the key components in an organization that drive a great EX?
Based on my experience, the key components in an organization that will enable a great EX are the following:
1. Strong leadership alignment and support
As I shared earlier, the success of employee experience initiatives relies mostly on the support of the leaders in the organization. The buy-in starts from the top. Their active involvement in the execution of EX programs will enable better success rate and effectiveness of the programs.
2. Psychological safety
Employees are the main focus of EX programs. An organization that wants to drive a great employee experience should build a culture of feedback enabled by an environment where employees can courageously provide real-time and constructive inputs.
The organization can leverage multiple mechanisms such as feedback forms, engagement surveys, focus group discussions, daily huddles, and more. It is critical that leaders and HR representatives remain grounded on employee feedback. They experience the direct impact of the EX programs. Employees are your internal customers.
3. Environment for experimentation
Provide opportunities for employees and management to co-design and co-execute EX programs. Employee experience programs have to be customized to your organization's needs considering the maturity of the business. Leave space for iteration in the EX programs. Be open for programs to fail and be improved until the program reaps success and creates more value in the organization. This type of environment will only be built if you have the first two components I mentioned.
3. Tell us about some of your favourite initiatives and the change you saw?
A few of my favorite initiatives that establish a good EX practice in the organization are the following:
Naming the company- This is one of the first yet memorable experiences we had in the company. Naming the company is a huge privilege and honor since it will be the first mark of the organization's identity. We did this through an employee contest. We asked all our employees to submit suggested names and we asked them to vote to shortlist until we selected the final one with our senior leaders. It will always be one of the best stories we share in the organization and even externally. This Is a true testament of the trust we give our employees in co-building our company's identity.


Co-designing the workplace experience- Following our principle of co-designing employee experience in the organization, we also asked our employees to provide recommendations on how our new office will look like and a majority of our workplace experience processes. We've moved to multiple headquarters throughout the years and everything that an employee or guest would see in our offices is a reflection of the collaboration and creativity of our employees- from design, names of meeting rooms, huddle areas, etc. The environment and the energy that we are able to cultivate within the organization enabled by the physical space we co-created uniquely differentiates our success among other companies in the same industry.


Holistic employee wellness programs- The past year has been challenging for a majority of organizations and even for our employees. The concept of work-life integration has become more real than ever. The organization should not only look at how employees perform in contributing to business results but more importantly the other aspects of the employee outside work. These aspects provide the energy for employees to be productive, motivated, and inspired to stay within an organization that truly cares about them, as humans, and not just as employees. We offered a holistic employee wellness program that covers mental health, physical fitness, financial literacy, sense of growth and recognition, and community building. We also made it sustainable by building a complete support system for employees- through leadership enablement, series of webinars, access to professionals, and more.


Establishing an internal financial assistance program for employees- We have built an internal common fund which employees can donate to or avail from for financial assistance needed due to medical emergencies, death in the family, or because of an impact of a calamity. This program strengthened our core value of caring for colleagues where each has the opportunity to help through different fundraising programs. We saw that more and more employees are willing to help other colleagues especially in difficult times.
4. In your experience, at what point in their tenure are employees most likely to leave? How can CHROs prevent this?
Based on my experience, employees don't necessarily have a specific target on when they feel they need to move to another organization. We are past the time wherein employees have deadlines on when they should leave, carrying the mindset that the more companies they work for, the better they build their experience and expertise. It is now driven by the culture, environment, and employee experience they have in the organization. This puts more importance in establishing good EX practices early in the organization.
Employees leave when:
They don't find alignment between their personal purpose and values to the organization's.

They don't have a good relationship with their people managers or they don't see leaders as role models of the culture.

They don't feel any psychological safety and employees are not empowered nor listened to by the management.

They don't see enough opportunities for career growth.
Start by establishing a clear organization's truth - the company's purpose, vision, mission, and core values. This Is at the center and basis of all employee experience programs. All employees should align to this truth and it will make all leaders accountable in delivering programs aligned to this truth.
Once this truth is established, communicated, and understood by all employees, CHROs can prevent attrition drivers by focusing on value-adding employee experience programs addressing the above issues and continuous development of leaders across the organization.
This will require a lot of communication between leaders, people managers, and employees. Providing proper context on why programs and initiatives are done for people and the business and how these remain aligned to the truth they believe in.
CHROs should focus also on developing the competencies for leaders that reflect the core values of the organization which includes building psychological safety, driving performance through autonomy and empowerment, supporting career growth, and more. They need to have the right set of behaviors (e.g humility, empathy, and respect) and skills that a people-focused organization needs to thrive. As much as it is efficient to try creating a silver bullet approach for EX and people development, it has to allow space for flexibility and personalization. Recognizing that each employee goes through a different growth journey within the organization and enabling them and supporting them throughout their journey will create a big impact in their experience and motivation to perform.
EX is not a single department under HR nor driven by HR alone. EX is a reflection of everything we do and don't do for the organization and its employees. EX is mostly seen by employees through how leaders and HR act on organization's issues and needs.
5. At your age, you've won more awards than any of your peers. What's your secret?
I have always been grateful and honored to receive the recognition given to me and the organization because of the HR and employee experience practice we have built inside the organization. I don't believe in any secret sauce or anything unique that might have led me to be awarded. I do believe in practices and behaviors that we already know yet take for granted -strong collaboration with all stakeholders, consistent communication, and service-focused leadership.
I have already elaborated on the first two aspects earlier so let me share more about service-focused leadership. With the help of how my parents and education nurtured me, the value of service has been strongly ingrained in my identity and purpose. Without a formal HR background, I took the risk of starting an HR career because I find fulfillment in helping people succeed and becoming a catalyst of positive change in organizations. I continue to hold on to this core value, focusing on the people I serve, getting inspiration from them for me to be driven for my own development and career growth.
The value of service helped me develop a strong growth mindset. I pursued my several HR certifications, built relationships with different mentors, and actively participated in projects that challenge me to become better. I wanted to fill my own cup so I can give more and serve others.
6. What are the top 3 fundamental skills every people leader in an organization must practice?
If every leader in the organization practices these three skills, driving and establishing a great EX practice will be easier in any organization.
7. A lot of companies continue to struggle to put employee wellness at the forefront. What are the main challenges organizations often face? How do you go about employee well-being?
In my opinion, the main challenge that organizations face in putting employee wellness at the forefront is the lack of leadership support and focus on business metrics only. Focusing on people and treating people right does not end with including them in the company's purpose and values statements. It has to be clearly acted on and championed by the leaders.
Leaders need to first recognize that employee well-being provides the energy and motivation for employees to perform best at work and will enable the achievement of the business goals. Organizations need to start focusing on employees first who serve the customers.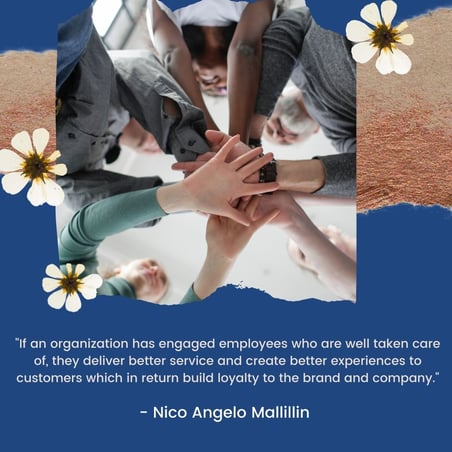 It's a cycle that should be built and should continuously revolve. Once this mindset has been established, creating programs becomes easier. Leaders, like any employee, would have their own well-being needs. Provide them programs that cater to their needs so they also get to appreciate the impact of implementing initiatives on employee well-being. The next step is to approach well-being programs holistically and co-design it with the employees. An organization needs to recognize all the factors that need to be addressed to make the program sustainable. Establish programs that employees can directly participate in such as access to mental health professionals, physical fitness coaches, financial advisors. Provide them opportunities to learn through a series of webinars and open forums. Develop leaders and people managers to be equipped with the right mindset, behaviors, and skills to support employee well-being. Some examples would be mental health first-aid training, performance and career coaching, and mentoring enablement sessions.
Continuously improve the programs by getting frequent feedback and recommendations from employees. This will ensure that the well-being programs cater to the most important needs across the organization.
8. Tell us about your vision for HR across the globe? What's the Future of Work in your mind?
My vision of HR has remained the same since I started my role as Chief People Officer at the age of 25.
Gone are the days that HR practices and policies dictate employee experiences that are dated and traditional. HR should build a progressive mindset and let the desired employee experience dictate the policies and programs being built within the organization. Success metrics within HR need to be revisited so they reflect more the experience and engagement of employees in the company.
A lot of organizations have started to shift from 'Human Resources' to 'People' or 'Employee Experience' which are good indicators that the HR function is evolving through time but we need to move faster. Leaders and organizations should look and treat employees as who they are - humans, and not just resources that need to be optimized for the business. HR should enable leaders to build organizations that allow employees to live out their core values, define and achieve their own definition of personal and professional success, and find joy in what they do.
The future of work is where every member in the organization thrives in an environment where their well-being is taken care of, their working relationships are built by humility, empathy, and respect, and where they are inspired and driven by the organization's purpose and mission. The future of work enables employees to do what they love to create a positive and meaningful impact on society while working together with the people who drive them to become better.
Struggling to retain your top talent or engage employees in the remote/hybrid world? We totally get it. Give Amber, Asia's leading employee experience bot, a chance. Sign up for a free demo right here.